Anolis bombiceps COPE, 1875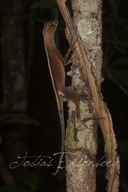 Can you confirm these amateur observations of Anolis bombiceps?
Add your own observation of
Anolis bombiceps »
Find more photos by Google images search:
Higher Taxa
Dactyloidae, Iguania, Sauria, Squamata (lizards)
Subspecies
Common Names
Surprise Anole, Blue-lipped forest anole
Synonym
Anolis bombiceps COPE 1876: 168
Anolis bombifrons [in error] — BOULENGER 1885: viii
Anolis bombiceps — BOULENGER 1885: 94
Anolis bombiceps — PETERS et al. 1970: 49
Norops bombiceps — SAVAGE & GUYER 1989: 110
Norops bombiceps — NICHOLSON 2002
Anolis bombiceps — D'ANGIOLELLA et al. 2011
Norops bombiceps — NICHOLSON et al. 2012
Distribution
Peru, Colombia, Brazil (Amazonas), Ecuador

Type locality: Nauta, Peru.
Reproduction
oviparous
Types
Holotype: lost fide D'ANGIOLELLA et al. 2011
Diagnosis
Comment
Description. Maximum SVL 74 mm. Vertebral scales not or only slightly enlarged. Scales on upper arm subequal to, or slightly larger than, vertebral scales. Scales on snout anteriorly small, weakly to distinctly keeled, posteriorly larger, flat, usually uni- or multicarinated. Supraorbital semicircles with enlarged, keeled scales, forming pronounced ridge. Supraocular region with a group of distinctly enlarged scales surrounded posteriorly and laterally by granules. Interparietal scale distinctly larger than adjacent scales [from D'ANGIOLELLA et al. 2011].

Species group: Norops auratus Species Group (fide Nicholson et al. 2012)
Etymology
References

Avila-Pires,T.C.S. 1995. Lizards of Brazilian Amazonia (Reptilia: Squamata). Zoologische Verhandelingen 299: 1-706 - get paper here
Boulenger, G.A. 1885. Catalogue of the lizards in the British Museum (Natural History). Vol. 2, Second edition. London, xiii+497 pp. - get paper here
Cope, E.D. 1875. Report on the Reptiles brought by Professor James Orton from the middle and upper Amazon and western Peru. Journal of the Academy of Natural Sciences of Philadelphia N.S. (2) 8: 159-183 [sometimes thought to be published 1876 but see Murphy et al. 2007 for clarification] - get paper here
D'angiolella, Annelise B.; Tony Gamble, Teresa C. S. Avila-Pires, Guarino R. Colli, Brice P. Noonan, and Laurie J. Vitt 2011. Anolis chrysolepis Duméril and Bibron, 1837 (Squamata: Iguanidae), Revisited: Molecular Phylogeny and Taxonomy of the Anolis chrysolepis Species Group. Bull. Mus. Comp. Zool. Harvard 160 (2): 35-63. - get paper here
Nicholson, K.E. 2002. Phylogenetic analysis and a test of the current infrageneric classification of Norops (beta Anolis). Herpetological Monographs 16: 93-120 - get paper here
NICHOLSON, KIRSTEN E.; BRIAN I. CROTHER, CRAIG GUYER & JAY M. SAVAGE 2012. It is time for a new classification of anoles (Squamata: Dactyloidae). Zootaxa 3477: 1–108
Peters, James A. & Donoso-Barros, Roberto 1970. Catalogue of the Neotropical Squamata: Part II. Lizards and Amphisbaenians. Bull. US Natl. Mus. 297: 293 pp. - get paper here
Poe, S. 2013. 1986 Redux: New genera of anoles (Squamata: Dactyloidae) are unwarranted. Zootaxa 3626 (2): 295–299 - get paper here
RIBEIRO-JÚNIOR, MARCO A. 2015. Catalogue of distribution of lizards (Reptilia: Squamata) from the Brazilian Amazonia. I. Dactyloidae, Hoplocercidae, Iguanidae, Leiosauridae, Polychrotidae, Tropiduridae. Zootaxa 3983 (1): 001–110

External links
Is it interesting? Share with others:
As link to this species use URL address:

http://reptile-database.reptarium.cz/species?genus=Anolis&species=bombiceps

without field 'search_param'. Field 'search_param' is used for browsing search result.