Anolis stratulus COPE, 1861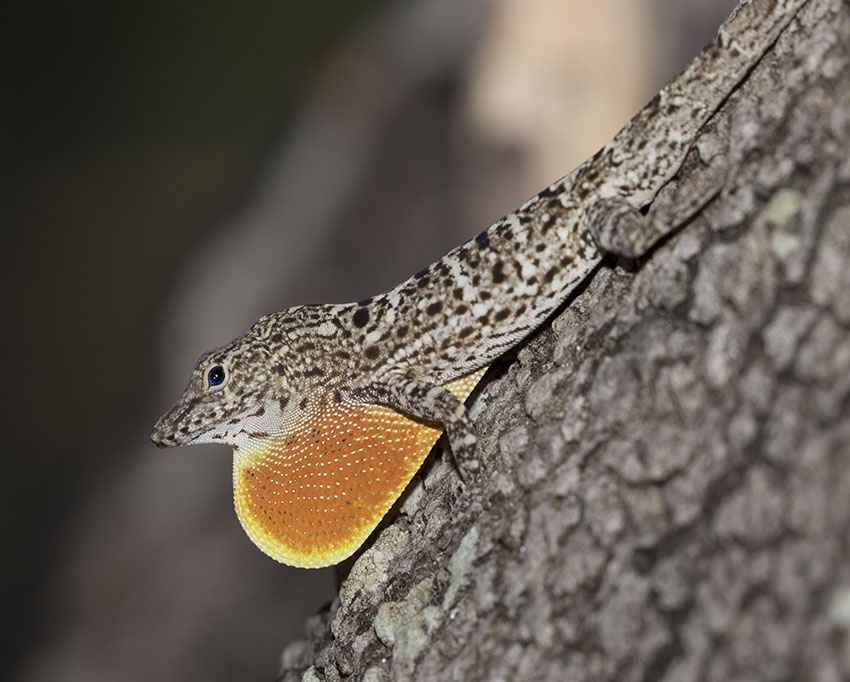 Can you confirm these amateur observations of Anolis stratulus?
Add your own observation of
Anolis stratulus »
Find more photos by Google images search:
Higher Taxa
Dactyloidae, Iguania, Sauria, Squamata (lizards)
Subspecies
Common Names
Spotted anole, St. Thomas Anole, Banded Anole

Spanish: Lagartijo manchado
Synonym
Anolis striatulus [sic] COPE 1861 (1862): 209
Anolis stratulus — BOULENGER 1885: 27
Anolis stratulus — SCHWARTZ & HENDERSON 1991: 348
Anolis stratulus — BRANDLEY & DE QUEIROZ 2004
Ctenonotus stratulus — NICHOLSON et al. 2012
Distribution
Puerto Rico, Isla Vieques, Isla Culebra, Virgin Islands

Type locality: St. Thomas, US Virgin Islands. Map legend:


- Region according to the TDWG standard, not a precise distribution map.



NOTE: TDWG regions are generated automatically from the text in the distribution field and not in every cases it works well. We are working on it.

Reproduction
oviparous
Types
Syntypes: ANSP 7790-7800, MCZ 21217.
Comment
For illustrations see Stejneger, 1904; Schmidt, 1928; Rivero, 1978; MacLean, 1982; Grobman, 1983; Schwartz and Henderson, 1985.

Habitat: Ecomorph class: trunk-crown.
References

Barbour,T. 1917. Notes on the herpetology of the Virgin Islands. Proc. Biol. Soc. Washington 30: 97-103. - get paper here
Boulenger, G.A. 1885. Catalogue of the lizards in the British Museum (Natural History). Vol. 2, Second edition. London, xiii+497 pp. - get paper here
Brandley, M.C. & De Queiroz, K. 2004. Phylogeny, ecomorphological evolution, and historical biogeography of the Anolis cristatellus series. Herpetological Monographs 18: 90-126 - get paper here
Cooper Jr., W.E. 2005. Duration of movement as a lizard foraging movement variable. Herpetologica 61 (4): 363-372 - get paper here
Cope, E.D. 1861. Notes and descriptions of anoles. Proc. Acad. Nat. Sci. Philadelphia 13: 208-215. - get paper here
Gorman, G.C. 1969. The zoogeography of Lesser Antillean Anolis lizards; an analysis based upon chromosomes and lactic dehydrogenases. Bull. Mus. Comp. Zool. Harvard 138 (3): 53-80. - get paper here
Grobman, A.B. 1983. The lizards of Virgin Gorda. Naturegraph Publ., Inc., Happy Camp, CA:5-23.
Heatwole, H., D.S. Sade & R. Hildreth 1963. Herpetogeography of Puerto Rico. I. Herpetofauna of Cayo Santiago and Cayo Batata. Carib. J. Sci. 3 (1): 1-5.
KÖHLER, GUNTHER 2014. Characters of external morphology used in Anolis taxonomy—Definition of terms, advice on usage, and illustrated examples. Zootaxa 3774 (2): 201–257 - get paper here
Kolbe, Jason J. 2015. Effects of Hind-Limb Length and Perch Diameter on Clinging Performance in Anolis Lizards from the British Virgin Islands. Journal of Herpetology Jun 2015, Vol. 49, No. 2: 284-290. - get paper here
Losos, J. B. 2009. Lizards in an Evolutionary Tree: Ecology and Adaptive Radiation of Anoles. Berkeley: University of California Press, 528 pp.
MacLean, W.P. 1982. Reptiles and amphibians of the Virgin Islands. MacMillan Caribbean, London: vii + 54 pp.
Mayer,G.C. & Lazell,J. 1988. Distributional records for reptiles and amphibians from the Puerto Rico Bank. Herpetological Review 19 91): 23-24 - get paper here
MIRANDA-CASTRO L; ALBERTO R. PUENTE-ROLÓN, AND<br />SONDRA VEGA-CASTILLO 2000. First List of the Vertebrates of Los Tres Picachos State Forest, Puerto Rico, with Data on Relative Abundance and Altitudinal Distribution. Carib. J. Sci. 36 (1-2): 117–126
NICHOLSON, KIRSTEN E.; BRIAN I. CROTHER, CRAIG GUYER & JAY M. SAVAGE 2012. It is time for a new classification of anoles (Squamata: Dactyloidae). Zootaxa 3477: 1–108
Perry, Gad;Lazell, James 1997. Anolis stratulus (Saddled Anole). Nectivory. Herpetological Review 28 (3): 150-151 - get paper here
Philibosian, R.; Yntema, J. A. 1976. Records and status of some reptiles and amphibians in the Virgin Islands. I. 1968-1975. Herpetologica 32 (1): 81-85 - get paper here
Philibosian, R.; Yntema, J. A. 1978. Records and status of some reptiles and amphibians in the Virgin Islands. II. 1975-1976. Herpetologica 34 (1): 47-51 - get paper here
Poe, S. 2004. Phylogeny of anoles. Herpetological Monographs 18: 37-89 - get paper here
Poe, S. 2013. 1986 Redux: New genera of anoles (Squamata: Dactyloidae) are unwarranted. Zootaxa 3626 (2): 295–299 - get paper here
Rios-López, N. & Aide, T.M. 2007. Herpetofaunal dynomics during secondary succession. Herpetologica 63 (1): 35-50 - get paper here
Rivero, J.A. 1978. Los anfibios y reptiles de Puerto Rico. M. Pareja Montana, 16, Barcelona, Espafia: x + 152 + 148pp.
Schmidt, K.P. 1928. Scientific Survey of Porto Rico and the Virgin Islands: Amphibians and land reptiles of Porto Rico, with a list of those reported from the Virgin Islands. New York Academy of Sciences 10 (1):160 pp.
Schoener, Thomas W.;Schoener, Amy 1971. Structural habitats of West Indian Anolis lizards II. Puerto Rican uplands. Breviora (375): 1-39 - get paper here
Schwartz, A. & Henderson, R.W. 1991. Amphibians and Reptiles of the West Indies. University of Florida Press, Gainesville, 720 pp.
Schwartz, A. and Henderson, R.W. 1985. A guide to the identification of the amphibians and reptiles of the West Indies exclusive of Hispaniola. Milwaukee Public Mus., 165 pp.
Stejneger, L. 1904. The herpetology of Porto Rico. Rept. United States Natl. Mus. 1902: 549-724.
Werning, H. 2012. Zwischen Anolis und Cycluren: Unterwegs auf Puerto Rico. Reptilia (Münster) 17 (95): 100-109 - get paper here

External links
Is it interesting? Share with others:
As link to this species use URL address:

http://reptile-database.reptarium.cz/species?genus=Anolis&species=stratulus

without field 'search_param'. Field 'search_param' is used for browsing search result.