Anolis vermiculatus COCTEAU, 1837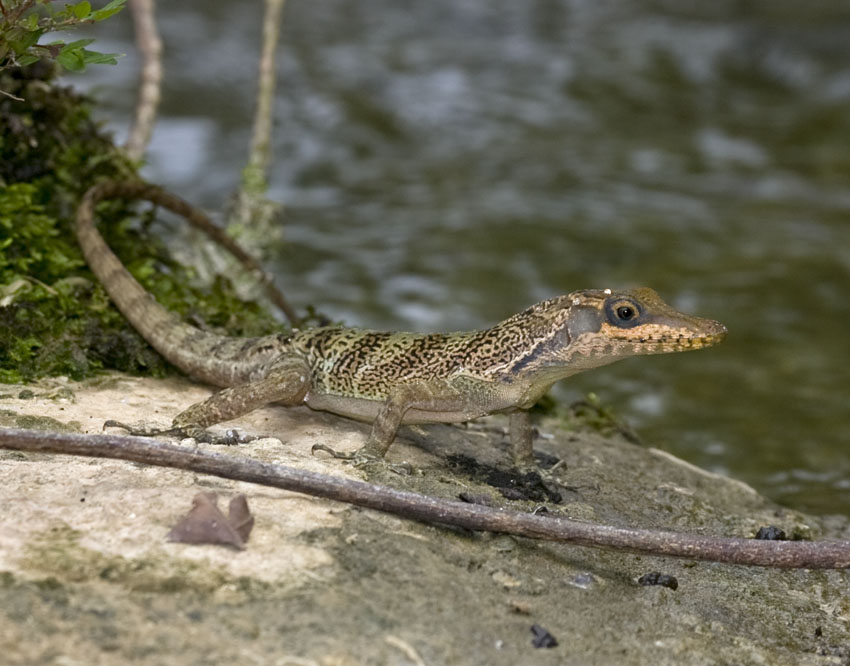 Can you confirm these amateur observations of Anolis vermiculatus?
Add your own observation of
Anolis vermiculatus »
Find more photos by Google images search:
Higher Taxa
Dactyloidae, Iguania, Sauria, Squamata (lizards)
Subspecies
Common Names
Vinales Anole
Synonym
Anolis vermiculatus COCTEAU in DUMÉRIL & BIBRON 1837: 128
Ptychonotus (Deiroptyx) vermiculatus — FITZINGER 1843: 17, 66
Anolis vermiculatus — BOULENGER 1885: 41
Anolis vermiculatus — SCHWARTZ & HENDERSON 1988: 91
Anolis vermiculatus — SCHWARTZ & HENDERSON 1991: 353
Anolis vermiculatus — RODRÍGUEZ SCHETTINO 1999: 272
Anolis vermiculatus — NICHOLSON et al. 2005
Deiroptyx vermiculata — NICHOLSON et al. 2012
Distribution
Cuba (Pinar del Rio)

Type locality: Cuba; restricted by Ruibal, 1964, to Viñales, Pinar del Rio Province, Cuba. Map legend:


- Region according to the TDWG standard, not a precise distribution map.



NOTE: TDWG regions are generated automatically from the text in the distribution field and not in every cases it works well. We are working on it.

Reproduction
oviparous
Types
Syntypes: MNHN 2407, MNHN 2349.
Comment
For illustrations see Stejneger, 1917; Barbour and Ramsden, 1919; Peters, 1970, Flaschendräger 2002.

Habitat: Aquatic species!

Type species: Anolis vermiculatus is the type species of Deiroptyx FITZINGER 1843 (SAVAGE & GUYER 2004).

Diagnosis (Deiroptyx): Support for this genus is based on 47 apomorphies including five morphological features and 42 molecular ones. There are three unequivocal morphological features: size of interparietal scale increased (7: u to m); decreased mean number of ventral scales in 5% of snout-to-vent length (20: s to n); and pterygoid teeth present (71: z to a). There are 14 unequivocal molecular apomorphies (see Appendix II, NICHOLSON et al. 2012: 23).

Species group: Deiroptyx vermiculata species group (fide NICHOLSON et al. 2012).
Etymology
This generic name is derived from the Greek deir = hump or deire (= neck, throat) and ptyx = fold, presumably in reference to the well-developed nuchal crest in males of this species. The name is feminine in gender.
References

Barbour, T. and C. T. Ramsden. 1919. The herpetology of Cuba. Mem. Mus. Comp. Zool., Harvard Coll. 47: 69-213. - get paper here
Boulenger, G.A. 1885. Catalogue of the lizards in the British Museum (Natural History). Vol. 2, Second edition. London, xiii+497 pp. - get paper here
Duméril, A. M. C. and G. Bibron. 1837. Erpétologie Générale ou Histoire Naturelle Complete des Reptiles. Vol. 4. Libr. Encyclopédique Roret, Paris, 570 pp. - get paper here
Fitzinger, L. 1843. Systema Reptilium, fasciculus primus, Amblyglossae. Braumüller et Seidel, Wien: 106 pp. - get paper here
Flaschendräger, A. 2002. Beobachtungen an Anolis-Arten in der Cordillera de Guaniguanico, Provinz Pinar del Río, West-Kuba. Herpetofauna 24 (138): 5-18 - get paper here
Fläschendräger, Axel 2017. Beobachtungen an einigen Anolis-Arten im westlichen Kuba Terraria-Elaphe 2017 (5): 52-63 - get paper here
KÖHLER, GUNTHER 2014. Characters of external morphology used in Anolis taxonomy—Definition of terms, advice on usage, and illustrated examples. Zootaxa 3774 (2): 201–257 - get paper here
Losos, J. B. 2009. Lizards in an Evolutionary Tree: Ecology and Adaptive Radiation of Anoles. Berkeley: University of California Press, 528 pp.
Losos, Jonathan B., Manuel Leal, Richard E. Glor, Kevin de Queiroz, Paul E. Hertz, Lourdes Rodríguez Schettino, Ada Chamizo Lara, Todd R. Jackman & Allan Larson 2003. Niche lability in the evolution of a Caribbean lizard community. Nature 424: 542-545
Nicholson, K. E., R. E. Glor, J. J. Kolbe, A. Larson, S. B. Hedges, and J. B. Losos 2005. Mainland colonization by island lizards. Journal of Biogeography 32: 929–938 - get paper here
NICHOLSON, KIRSTEN E.; BRIAN I. CROTHER, CRAIG GUYER & JAY M. SAVAGE 2012. It is time for a new classification of anoles (Squamata: Dactyloidae). Zootaxa 3477: 1–108
Peters, G. 1970. Zur Taxionomie und Zoogeographie der kubanischen anolinen Eidechsen (Reptilia, Iguanide). Mitt. Zool. Mus. Berlin 46: 197-234.
Poe, S. 2004. Phylogeny of anoles. Herpetological Monographs 18: 37-89 - get paper here
Poe, S. 2013. 1986 Redux: New genera of anoles (Squamata: Dactyloidae) are unwarranted. Zootaxa 3626 (2): 295–299 - get paper here
Rodríguez Schettino, Lourdes (ed.) 1999. The iguanid lizards of Cuba. University Press of Florida, 428 pp.
Rodríguez Schettino, Lourdes;Marcellini, Dale L.;Novo Rodríguez, Julio 1987. Algunos aspectos ecológicos sobre Anolis vermiculatus (Sauria: Iguanidae) en Soroa, Pinar del Río, Cuba. Poeyana (343): 1-9
Rodríguez Schettino, Lourdes;Novo Rodríguez, Julio 1985. Nuevos datos etoecológicos sobre Anolis vermiculatus (Sauria: Iguanidae). Poeyana (296): 1-11
Rodríguez Schettino, Lourdes, Carlos A. Mancina & Vilma Rivalta González 2013. REPTILES OF CUBA: CHECKLIST AND GEOGRAPHIC DISTRIBUTIONS. Smithsonian Herp. Inf. Serv. (144): 1-96 - get paper here
Ruibal, R. 1964. An annotated checklist and key to the anoline lizards of Cuba. Bull. Mus. comp. Zool. Harvard 130 (8): 475-520. - get paper here
Savage, J. M. and C. Guyer 2004. Application of anole lizard generic names proposed by Wagler, 1830 and Fitzinger, 1843. Amphibia-Reptilia 25 (3): 303-305 - get paper here
Schwartz, A. & Henderson, R.W. 1988. West Indian Amphibian and Reptiles: A Checklist. Milwaukee Publ. Mus. Contr. Biol. Geol. No. 74: 264 pp.
Schwartz, A. & Henderson, R.W. 1991. Amphibians and Reptiles of the West Indies. University of Florida Press, Gainesville, 720 pp.
Stejneger,L.H. 1917. Cuban amphibians and reptiles collected for the United States National Museum from 1899 to 1902. Proc. US Natl. Mus. 53: 259-291 - get paper here

External links
Is it interesting? Share with others:
As link to this species use URL address:

http://reptile-database.reptarium.cz/species?genus=Anolis&species=vermiculatus

without field 'search_param'. Field 'search_param' is used for browsing search result.