Cnemaspis psychedelica GRISMER, NGO & GRISMER, 2010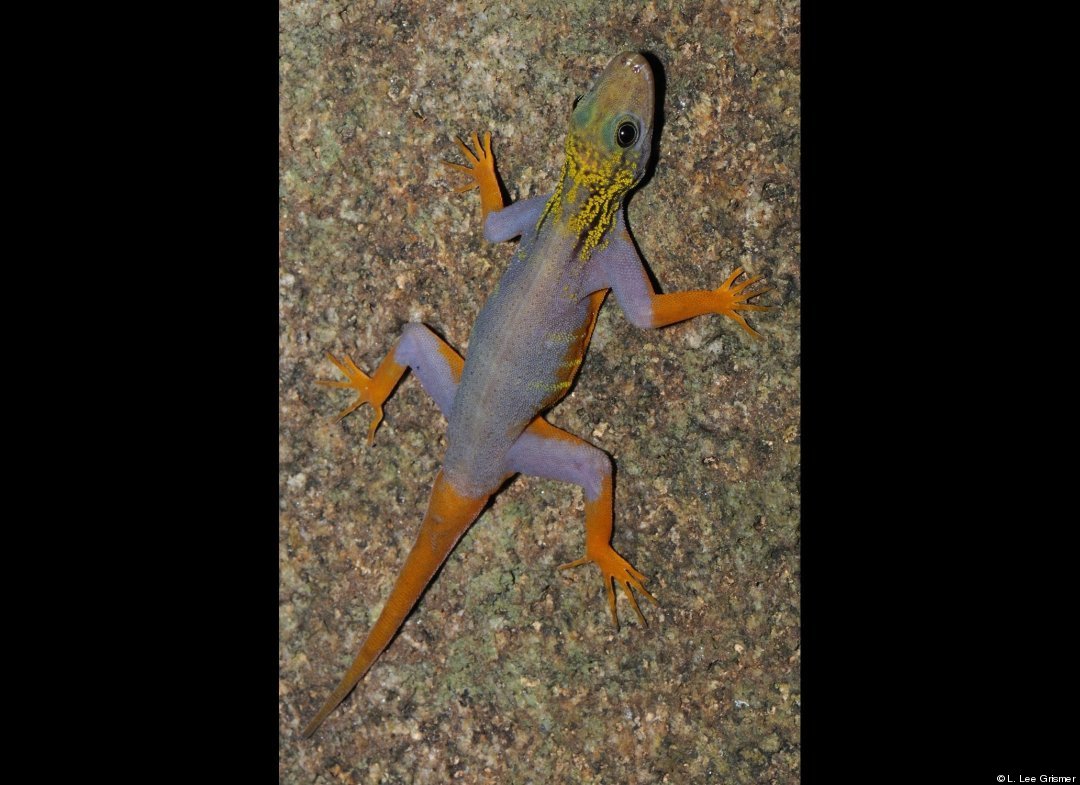 Can you confirm these amateur observations of Cnemaspis psychedelica?
Add your own observation of
Cnemaspis psychedelica »
Find more photos by Google images search:
Higher Taxa
Gekkonidae, Gekkota, Sauria, Squamata (lizards: geckos)
Subspecies
Common Names
E: Psychedelic Rock Gecko
Vietnamese: Tac ke duoi vang
Synonym
Cnemaspis psychedelica GRISMER, NGO & GRISMER 2010
Cnemaspis psychedelica — BAUER 2013 (plates)
Distribution
Vietnam (Ca Mau: Hon Khoai Island)

Type locality: Hon Khoai Island, Ca Mau Province, Ngoc Hien District, Vietnam (08°26.098 N, 104°49.536 E)
Reproduction
oviparous (not imputed, fide Zimin et al. 2022)
Types
Holotype: UNS 0444, adult male, collected on 24 June 2009 by Ngo Van Tri, Jesse L. Grismer, and L. Lee Grismer.
Diagnosis
Diagnosis. Cnemaspis psychedelica differs from all other Southeast Asian species of Cnemaspis in having a color pattern in both sexes and all age classes of bright-orange forelimbs, hands, feet and tail; bright-orange flanks bearing three or four yellow, transverse bars; a bright-yellow reticulum on the neck overlaying thick, black streaks; and a greenish head. It differs further from all other species of Cnemaspis in having the unique combination of adult males reaching at least 75.3 mm SVL, adult females reaching at least 72.2 mm SVL; having seven or eight supralabials and 5–7 infralabials; very large mental scale followed by three postmental scales and extending posteriorly to the level of the fourth or fifth infralabial scales; dorsal forearm scales and dorsal tubercles keeled; subtibials, ventrals, and subcaudals smooth; 32–48 paravertebral tubercles; tubercles on flanks not linearly arranged; caudal tubercles restricted to single paravertebral rows; one or two postcloacal tubercles; no precloacal scales; greatly enlarged femoral scales; large, plate-like subtibial scales; enlarged, submetatarsal scales beneath first toe; and 25–28 subdigital lamellae on fourth toe. These differences are summarized across all other Cnemaspis in Grismer et al. (2008a:TABLE 1) and Grismer and Chan (2009:TABLE 1) and Grismer et al. 2014.
Comment
Etymology
The specific epithet psychedelica is in reference to the bright, incongruous coloration and pattern of this species.
References

Bauer, A.M. 2013. Geckos - The Animal Answer Guide. Johns Hopkins University Press, 159 pp.
GEWISS, L. R., NGO, H., VAN SCHINGEN-KHAN, M. O. N. A., NGUYEN, K. V., NGUYEN, T. Q., RAUHAUS, A., & ZIEGLER, T. 2021. PHOTOGRAPHIC IDENTIFICATION OF CNEMASPIS PSYCHEDELICA: A USEFUL TOOL TO IMPROVE THE REGULATION OF INTERNATIONAL WILDLIFE TRADE. Herpetological Conservation and Biology, 16(1): 142-149 - get paper here
GRISMER, L. LEE; MONTRI SUMONTHA, MICHAEL COTA, JESSE L. GRISMER, PERRY L. WOOD, JR., OLIVIER S. G. PAUWELS & KIRATI KUNYA 2010. A revision and redescription of the rock gecko Cnemaspis siamensis (Taylor 1925) (Squamata: Gekkonidae) from Peninsular Thailand with descriptions of seven new species. Zootaxa 2576: 1–55 - get paper here
Grismer, L.L.; Ngo V. Tri & J.L. Grismer 2010. A colorful new species of insular rock gecko(Cnemaspis Strauch 1887) from southern Vietnam. Zootaxa 2352: 46–58 - get paper here
Grismer, L.L.; PERRY JR L. WOOD, SHAHRUL ANUAR, AWAL RIYANTO, NORHAYATI AHMAD, MOHD A. MUIN, MONTRI SUMONTHA, JESSE L. GRISMER, CHAN KIN ONN, EVAN S. H. QUAH, OLIVIER S. A. PAUWELS 2014. Systematics and natural history of Southeast Asian Rock Geckos (genus Cnemaspis Strauch, 1887) with descriptions of eight new species from Malaysia, Thailand, and Indonesia. Zootaxa 3880 (1): 001–147 - get paper here
Janssen J, Indenbaum RA, 2018. Endemic Vietnamese Reptiles in Commercial Trade. Journal of Asia-Pacific Biodiversity - get paper here
Kwet, Axel 2016. Ergebnisse der 17. CITES-Konferenz in Johannesburg – neue Regelungen für einige Reptilien und Amphibien. Terraria-Elaphe 2016 (6): 8-11 - get paper here
Ngo HN, Nguyen TQ, Nguyen TV, Barsch F, Ziegler T, and van Schingen M. 2016. First population assessment of the endemic insular Psychedelic Rock Gecko (Cnemaspis psychedelica) in southern Vietnam with implications for conservation. Amphibian & Reptile Conservation 10(2) [General Section]: 18–26 (e124)
Nguyen, H.N., Hung, C., Yang, M. et al. 2020. Sympatric competitors have driven the evolution of temporal activity patterns in Cnemaspis geckos in Southeast Asia. Sci Rep 10: 27 - get paper here
WOOD, PERRY JR. L.; EVAN S.H. QUAH, SHAHRUL ANUAR M.S., MOHD ABDUL MUIN 2013. A new species of lowland karst dwelling Cnemaspis Strauch 1887 (Squamata: Gekkonidae) from northwestern Peninsular Malaysia. Zootaxa 3691 (5): 538–558 - get paper here
Ziegler, T & Nguyen, QT 2015. Neues von den Forschungs- und Naturschutzprojekten in Vietnam und Laos. Zeitschrift des Kölner Zoos 2015 (2): 79-
Ziegler, Thomas; & Truong Quang Nguyen 2019. HERPETOLOGICAL RESEARCH AND CONSERVATION IN VIETNAM AND LAOS IN COMPLIANCE WITH THE ONE PLAN APPROACH. Proc. 4th Nat Sci Conf Amph Rept Vietnam 17-26
Ziegler, Thomas; Anna Rauhaus, Khoi Vu Nguyen, Truong Quang Nguyen 2016. Aufbau einer Erhaltungszuchtanlage für den Psychedelischen Felsengecko (Cnemaspis psychedelica) in Südvietnam. Der Zoologische Garten, doi:10.1016/j.zoolgart.2016.05.002 - get paper here
Ziegler, Thomas; Anna Rauhaus, Khoi Vu Nguyen, Truong Quang Nguyen 2016. Building of a Conservation Breeding Facility for the Psychedelic Rock Gecko (Cnemaspis psychedelica) in Southern Vietnam. Zool. Garten N.F. 85: 224–239 - get paper here
Ziegler, Thomas; Truong Quang Nguyen 2017. GERMAN-VIETNAMESE LONG-TERM COOPERATION BETWEEN THE COLOGNE ZOO AND THE INSTITUTE OF ECOLOGY AND BIOLOGICAL RESOURCES IN TERMS OF HERPETODIVERSITY RESEARCH AND CONSERVATION. Proceedings of the 7th National Scientific Conference on Ecology and Biological Resources Hanoi, 20 October 2017: 1076-1083

External links
Is it interesting? Share with others:
As link to this species use URL address:

https://reptile-database.reptarium.cz/species?genus=Cnemaspis&species=psychedelica

without field 'search_param'. Field 'search_param' is used for browsing search result.