Diporiphora magna STORR, 1974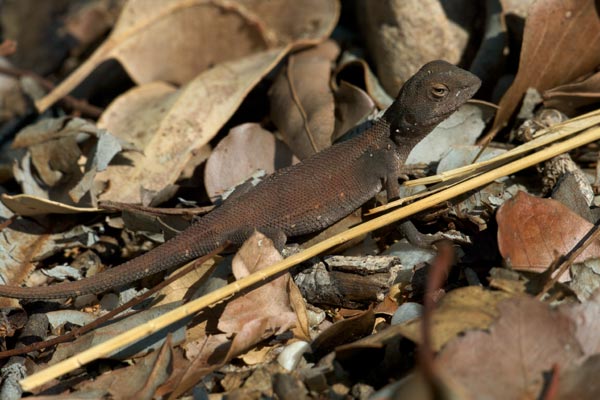 Can you confirm these amateur observations of Diporiphora magna?
Add your own observation of
Diporiphora magna »
Find more photos by Google images search:
Higher Taxa
Agamidae (Amphibolurinae), Sauria, Iguania, Squamata (lizards)
Subspecies
Common Names
Yellow-sided Two-line Dragon
Synonym
Diporiphora magna STORR 1974
Diporiphora magna — COGGER 1983
Diporiphora magna — COGGER 2000: 332
Diporiphora magna — SMITH et al. 2011
Distribution
Australia (Northern Territory, Queensland, Western Australia)

Type locality: Old Lissadell, in 16° 30' S, 128° 41' E (now submerged by Lake Argyle), W. A.
Reproduction
oviparous
Types
Holotype: WAM R42786
Diagnosis
Comment
Etymology
References

Cogger, H. G. 2014. Reptiles and Amphibians of Australia, 7th ed. CSIRO Publishing, xxx + 1033 pp.
Cogger, H.G. 2000. Reptiles and Amphibians of Australia, 6th ed. Ralph Curtis Publishing, Sanibel Island, 808 pp.
Smith, Katie L.; Luke J. Harmon, Luke P. Shoo, and Jane Melville 2011. EVIDENCE OF CONSTRAINED PHENOTYPIC EVOLUTION IN A CRYPTIC SPECIES COMPLEX OF AGAMID LIZARDS. Evolution 65-4: 976–992
Storr, G. M. 1974. Agamid lizards of the genera Caimanops, Physignathus and Diporiphora in Western Australia and Northern Territory. Rec. West. Aust. Mus. 3: 121-146 - get paper here
Wilson, S. & Swan, G. 2010. A complete guide to reptiles of Australia, 3rd ed. Chatswood: New Holland, 558 pp.

External links
Is it interesting? Share with others:
As link to this species use URL address:

http://reptile-database.reptarium.cz/species?genus=Diporiphora&species=magna

without field 'search_param'. Field 'search_param' is used for browsing search result.