Kinosternon baurii (GARMAN, 1891)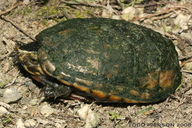 Can you confirm these amateur observations of Kinosternon baurii?
Add your own observation of
Kinosternon baurii »
Find more photos by Google images search:
Higher Taxa
Kinosternidae (Kinosterninae), Kinosternoidea, Testudines (turtles)
Subspecies
Kinosternon baurii baurii (GARMAN 1891)
Kinosternon baurii palmarum STEJNEGER 1925
Common Names
E: Striped Mud Turtle
G: Dreistreifen-Klappschildkröte
Synonym
Cinosternon baurii GARMAN 1891
Kinosternon baurii — STEJNEGER & BARBOUR 1917
Kinosternon baurii — CONANT & COLLINS 1991: 48
Kinosternon baurii — CROTHER 2000
Kinosternon baurii — TTWG 2014: 346
Distribution
SE USA (from near Aiken, South Carolina, along the Atlantic Coastal Plain of Georgia southward through peninsular Florida and the Keys, Alabama ?, North Carolina, Virginia)

baurii: S Florida, Everglades north to Palm Beach.

Type locality: "Key West," Monroe Co., Florida, U.S.A. Map legend:


- Region according to the TDWG standard, not a precise distribution map.



NOTE: TDWG regions are generated automatically from the text in the distribution field and not in every cases it works well. We are working on it.

Reproduction
oviparous.
Types
Syntypes: MCZ 282, 283, 284, 285, 286, 287, 1558, 1563, 4380 (renamed to now MCZ R-184720, R-184721, R-184722, R-184723, R-184724, R-184725, R-184726, R-1558, R-1563, R-4380); UMMZ 53038 (formerly MCZ 4718), FMNH 73481 (formerly MCZ 4050).
Comment
Does not occur on Cuba as stated in the original paper of GARMAN (1881).

The subspecies is not recognized any more according to Glaser (2006).

Max. carapace length: 12.7 cm.
Etymology
Named after Georg Herman Carl Ludwig Baur (1859-1898), German biologist, who also worked at Yale (1884-1890) and other places in the United States.
References

Böhme, W. 2005. Der "Savannah River Ecology Site" und seine herpetologischen Highlights. Herpetofauna 25 (142): 13-21 - get paper here
Bonin, F., Devaux, B. & Dupré, A. 2006. Turtles of the World. English translation by P.C.H. Pritchard. Johns Hopkins University Press, 416 pp.
Brashear, Greg and Brown, Grover J. 2016. Geographic Distribution: Kinosternon baurii (Striped Mud Turtle) Herpetological Review 47 (4): 626
Conant,R. & Collins,J.T. 1991. A Field Guide to Reptiles and Amphibians of Eastern/Central North America, 3rd ed. Houghton Mifflin (Boston/New York), xx + 450 p.
Crother, B. I. (ed.) 2012. Standard Common and Current Scientific Names for North American Amphibians, Turtles, Reptiles, and Crocodilians, Seventh Edition. Herpetological Circular 39: 1-92
Dodd, C. Kenneth, Jr. 1979. A bibliography of endangered and threatened amphibians and reptiles in the United States and its territories (conservation, distribution, natural history, status). Smithsonian Herp. Inf. Serv. (46): 1-35 - get paper here
Ernst, C.H. 1974. Kinosternon baurii (Garman). Catalogue of American Amphibians and Reptiles 161: 1-2. - get paper here
Ernst, Carl H.; Lovich, Jeffrey E. 2009. Turtles of the United States and Canada, 2nd edition. Johns Hopkins University Press, 827 pp. - get paper here
Ernst,C.H. and Barbour,R.W. 1989. Turtles of the World. Smithsonian Institution Press, Washington D.C. - London
Frick, Michael G. 1998. Geographic Distribution. Kinosternon baurii. Herpetological Review 29 (1): 50 - get paper here
Garman, S. 1891. On a tortoise found in Florida and Cuba, Cinosternon baurii. Bull. Essex Institute. Salem, Massachusetts 23: 141-144
Glaser, A.M. 2004. Die Dreistreifen-Klappschildkröte (Kinosternon baurii) - eine Schildkröte für kleine Aquarien?. Reptilia (Münster) 9 (47): 56-64 - get paper here
Glaser, A.M. 2006. Kinosternon baurii - The Striped Mud Turtle. Reptilia (GB) (49): 36-42 - get paper here
Hennig, A.S. 2004. Haltung von Wasserschildkröten. Natur und Tier Verlag (Münster), 125 pp. - get paper here
Iverson, John B. 1978. Variation in striped mud turtles, Kinosternon baurii, (Reptilia, Testudines, Kinosternidae). Journal of Herpetology 12 (2): 135-142 - get paper here
Jamniczky, H. A. and A. P. Russell 2007. Reappraisal of Patterns of Nonmarine Cryptodiran Turtle Carotid Circulation: Evidence From Osteological Correlates and Soft Tissues. JOURNAL OF MORPHOLOGY 268:571–587
Jensen, John B.; Carlos D. Camp, Whit Gibbons, & Matt J. Elliott 2008. Amphibians and reptiles of Georgia. University of Georgia Press, 575 pp.
Johnston, Gerald R., Jordan Schmitt and Joseph C. Mitchell. 2015. Kinosternon baurii (striped mud turtle) autohirudinophagy. Herpetological Review 46 (1): 81-82
Krysko, K.K.; Enge, K.M.; Donlan, E.M.; Golden, E.Z.; Burgess, J.P. & Larson, K.W. 2009. THE NON-MARINE HERPETOFAUNA OF KEY BISCAYNE, FLORIDA. Herp. Cons. Biol. 5 (1):132-142 - get paper here
Lamb, T. 1983. The striped mud turtle (Kinosternon bauri) in South Carolina, a confirmation through multivariate character analysis. Herpetologica 39 (4): 383-390 - get paper here
Lamb, T. 1983. On the problematic identification of Kinosternon (Testudines: Kinosternidae) in Georgia, with new state localities for Kinosternon bauri. Georgia J. Sci. 41: 115-120
Lamb, T.; Lovich, J. 1990. Morphometric validation of the striped mud turtle (Kinosternon baurii) in the Carolinas and Virginia. Copeia 1990 (3): 613-618 - get paper here
Lönnberg, Einar 1894. Notes on reptiles and batrachians collected in Florida in 1892 and 1893. Proc. US Natl. Mus. 17 (1003): 317-339 - get paper here
Lovich, Jeffrey E.;Lamb, Trip 1995. Morphometric similarity between the turtles Kinosternon subrubrum hippocrepis and K. baurii. Journal of Herpetology 29 (4): 621-624 - get paper here
Luison, Andrea and Stefano Redaelli. 2014. Haltung, Vermehrung und Aufzucht der Dreistreifen-Klappschildkröte Kinosternon baurii Garman, 1891. Schildkröten im Fokus 11 (2): 3-16
Mays, Jonathan D., Enge, Kevin M., Emerick, Adam and Hill, E. Pierson 2017. New island records for reptiles in the Florida Keys, Monroe County, Florida, USA Herpetological Review 48 (1): 145-146 - get paper here
McCord, W.P. & Joseph-Ouni, M. 2005. Chelonian Illustrations #21: Mud turtles of the United States and Morthern Mexico. Reptilia (GB) (41): 80-83 - get paper here
Mitchell, J. C. & Reay, K.K. 1999. Atlas of amphibians and reptiles in Virginia. Specialty Publication 1, VA Dept of Game and Fisheries, 122 pp. - get paper here
Palmer, W.M. & Braswell, A.L. 1995. Reptiles of North Carolina. Univ. North Carolina Press
Schilde, M. 2001. Schlammschildkröten: Kinosternon, Sternotherus, Claudius, Staurotypus. Natur und Tier Verlag (Münster), 136 pp. - get paper here
Schilde, M. 2003. Family Kinosternidae. Reptilia (GB) (26): 16-21 - get paper here
Thomas, Travis M., Eric Suarez and Kevin M. Enge. 2015. New county records of reptiles from the Suwannee River, Florida, USA. Herpetological Review 46 (4): 608
TTWG [Peter Paul van Dijk, John B. Iverson, Anders G.J. Rhodin, H. Bradley Shaffer, and Roger Bour] 2014. Turtles of the World, 7th Edition: Annotated Checklist of Taxonomy, Synonymy, Distribution with Maps, and Conservation Status. 000.v7. Chelonian Research Monographs (ISSN 1088-7105) No. 5, doi:10.3854/crm.5.000.checklist.v7.2014 - get paper here
Uzzell, Thomas M.;Schwartz, Albert 1955. The status of the turtle Kinosternon bauri palmarum Stejneger with notes on variation in the species. J. Elisha Mitchell Sci. Soc. 71 (1): 28-35 - get paper here
Wilson, Dawn S. and Stephen A. Karl 2001. Genetic relatedness of populations of the Mud Turtle, Kinosternon baurii, from mainland Florida and the upper and lower Florida Keys. Chelonian Conserv. Biol. 4 (1): 228-230.

External links
Is it interesting? Share with others:
As link to this species use URL address:

http://reptile-database.reptarium.cz/species?genus=Kinosternon&species=baurii

without field 'search_param'. Field 'search_param' is used for browsing search result.