Salvadora intermedia HARTWEG, 1940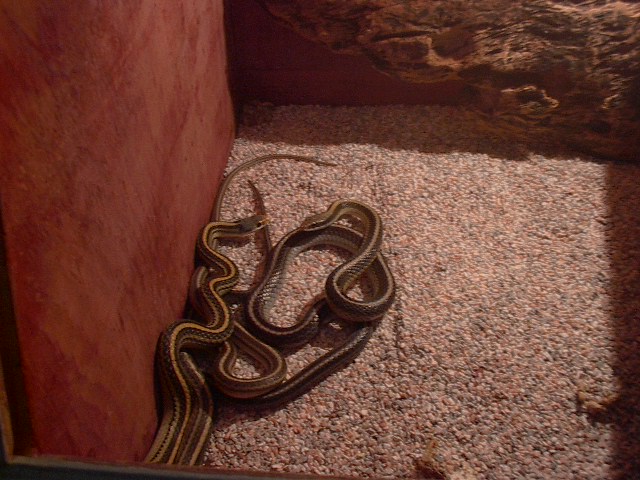 Can you confirm these amateur observations of Salvadora intermedia?
Add your own observation of
Salvadora intermedia »
Find more photos by Google images search:
Higher Taxa
Colubridae, Colubrinae, Colubroidea, Caenophidia, Alethinophidia, Serpentes, Squamata (snakes)
Subspecies
Common Names
Oaxacan Patchnose Snake
Synonym
Salvadora intermedia HARTWEG 1940
Salvadora intermedia richardi SMITH 1941
Salvadora intermedia — SMITH & TAYLOR 1945
Salvadora intermedia — LINER 1994
Salvadora intermedia — LINER 2007
Salvadora intermedia — WALLACH et al. 2014: 660
Distribution
Mexico (Oaxaca)

Type locality: Chilpancingo, Guerrero.

richardi: Mexico (Puebla); Type locality: Mexico: 1 mi N of Tehuacan, Puebla; Map legend:


- Region according to the TDWG standard, not a precise distribution map.



NOTE: TDWG regions are generated automatically from the text in the distribution field and not in every cases it works well. We are working on it.

Reproduction
oviparous
Types
Holotype: UMMZ 85733
Holotype: UIMNH 25071 (23470), E. H. Taylor and R. C.
Taylor; August 8, 1940 [richardi]
Comment
References

Casas-Andreu, G., F.R. Méndez-De la Cruz and X. Aguilar-Miguel. 2004. Anfibios y Reptiles; pp. 375–390, in A.J.M. García-Mendoza, J. Ordoñez and M. Briones-Salas (ed.). Biodiversidad de Oaxaca. Instituto de Biología, UNAM-Fondo Oaxaqueño para la Conservación de la Naturaleza-World Wildlife Fund, México, D. F.
Davis,W.B. & Dixon,J.R. 1957. Notes on Mexican Snakes (Ophidia). Southwestern Naturalist 2: 19-27 - get paper here
Gehlbach, Frederick R.;Collette, Bruce B. 1957. A contribution to the herpetofauna of the highlands of Oaxaca, Mexico. Herpetologica 13: 227-232 - get paper here
Hartweg, N. 1940. Description of Salvadora intermedia, new species, with remarks on the grahamiae group. Copeia 1940 (4): 256-259 - get paper here
Heimes, P. 2016. Snakes of Mexico. Chimaira, Frankfurt, 572 pp
Liner, Ernest A. 2007. A CHECKLIST OF THE AMPHIBIANS AND REPTILES OF MEXICO. Louisiana State University Occasional Papers of the Museum of Natural Science 80: 1-60 - get paper here
Mata-Silva, Vicente, Jerry D. Johnson, Larry David Wilson and Elí García-Padilla. 2015. The herpetofauna of Oaxaca, Mexico: composition, physiographic distribution, and conservation status. Mesoamerican Herpetology 2 (1): 6–62 - get paper here
PALACIOS-AGUILAR, RICARDO & OSCAR FLORES-VILLELA 2018. An updated checklist of the herpetofauna from Guerrero, Mexico. Zootaxa 4422 (1): 1-24 - get paper here
Santos-Bibiano, Rufino, Ricardo Palacios-Aguilar, Esmeralda Castro-Santos and Elizabeth Beltrán-Sánchez. 2016. Nature Notes. Salvadora intermedia (Oaxacan Patch-nosed Snake). Diet. Mesoamerican Herpetology 3 (1): 159–160 - get paper here
Smith, H.M. 1941. Further notes on Mexican snakes of the genus Salvadora. Smithsonian Misc. Coll. 99 (20): 1-12 - get paper here
Smith, Hobart M. & Taylor, Edward H. 1945. An annotated checklist and key to the snakes of Mexico. Bull. US Natl. Mus. (187): iv + 1-239 - get paper here
Trujillo–Caballero, S. & J. A. González–Oreja 2018. Efficient vs. structured biodiversity inventories: reptiles in a Mexican dry scrubland as a case study Animal Biodiversity and Conservation 41.2 (2018) 245 - get paper here
Wallach, Van; Kenneth L. Williams , Jeff Boundy 2014. Snakes of the World: A Catalogue of Living and Extinct Species. Taylor and Francis, CRC Press, 1237 pp.
Woolrich-Piña, G. A., E. García-Padilla, D. L. DeSantis, J. D. Johnson, V. Mata-Silva, and L. D. Wilson. 2017. The herpetofauna of Puebla, Mexico: composition, distribution, and conservation status. Mesoamerican Herpetology 4(4): 791–884

External links
Is it interesting? Share with others:
As link to this species use URL address:

http://reptile-database.reptarium.cz/species?genus=Salvadora&species=intermedia

without field 'search_param'. Field 'search_param' is used for browsing search result.