Trimeresurus honsonensis (GRISMER, NGO & GRISMER, 2008)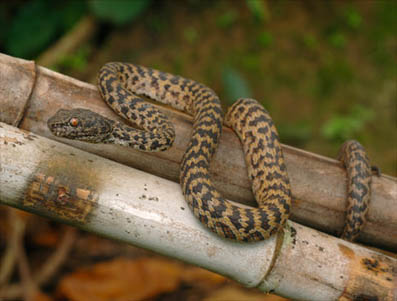 Can you confirm these amateur observations of Trimeresurus honsonensis?
Add your own observation of
Trimeresurus honsonensis »
Find more photos by Google images search:
Higher Taxa
Viperidae, Crotalinae, Colubroidea, Alethinophidia, Serpentes, Squamata (snakes)
Subspecies
Common Names
Synonym
Cryptelytrops honsonensis GRISMER, NGO & GRISMER 2008
Trimeresurus (Trimeresurus) honsonensis — DAVID et al. 2011
Trimeresurus honsonensis — WALLACH et al. 2014: 742
Distribution
S Vietnam

Type locality: Hon Son island in the Kien Hai District of the Kien Giang Province, Vietnam. It was collected at 09° 47' 95.2" N, 104° 37' 85.6" E at 100 m elevation. Map legend:


- Region according to the TDWG standard, not a precise distribution map.



NOTE: TDWG regions are generated automatically from the text in the distribution field and not in every cases it works well. We are working on it.

Reproduction
viviparous
Types
Holotype: UNS 0353
Comment
Diagnosis. Cryptelytrops honsonensis differs from all other species of Cryptelytrops by the combination of having dark body bands; lacking a ventrolateral stripe and a red or reddish-brown tail; having a dull-yellow to brown ground color as opposed to being green; females having a maximum SVL of 557 mm and a SVL of 523 mm in the single male; females having a TaL/SVL ratio of 0.15–0.16 and a ratio of 0.23 in the single male; 21 dorsal scale rows at midbody; 183–186 ventral scales in females and 186 in the male; 54–58 subcaudal scales in females and 74 in the male; 10 or 11 supralabials and 12 infralabials; 9–12 scales across the top of the head; smooth occipital and temporal scales; internasals in contact; and the third and fourth supralabials not contacting the subocular scale. Table 2 summarizes the states of these characters across all 13 species of Cryptelytrops [from GRISMER et al. 2008].
Etymology
The specific epithet honsonensis is in reference to the type locality, Hon Son Island.
References

DAVID, PATRICK; GERNOT VOGEL & ALAIN DUBOIS 2011. On the need to follow rigorously the Rules of the Code for the subsequent designation of a nucleospecies (type species) for a nominal genus which lacked one: the case of the nominal genus Trimeresurus Lacépède, 1804 (Reptilia: Squamata: Viperidae). Zootaxa 2992: 1–51 - get paper here
Grismer, L. Lee; Tri, Ngo Van; Grismer, Jesse L. 2008. A new species of insular pitviper of the genus Cryptelytrops (Squamata: Viperidae) from southern Vietnam. Zootaxa 1715: 57-68 - get paper here
Sang, Nguyen Van; Ho Thu Cuc, Nguyen, Quang Truong 2009. Herpetofauna of Vietnam. Chimaira, Frankfurt, 768 pp.
Wallach, Van; Kenneth L. Williams , Jeff Boundy 2014. Snakes of the World: A Catalogue of Living and Extinct Species. Taylor and Francis, CRC Press, 1237 pp.

External links
Is it interesting? Share with others:
As link to this species use URL address:

http://reptile-database.reptarium.cz/species?genus=Trimeresurus&species=honsonensis

without field 'search_param'. Field 'search_param' is used for browsing search result.