Anolis centralis PETERS, 1970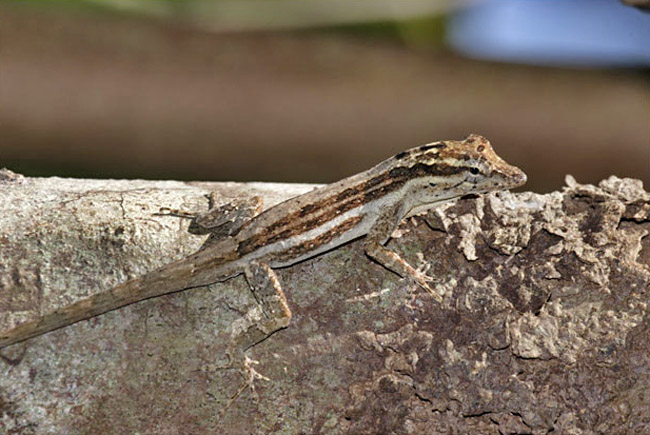 Can you confirm these amateur observations of Anolis centralis?
Add your own observation of
Anolis centralis »
Find more photos by Google images search:
Higher Taxa
Dactyloidae, Iguania, Sauria, Squamata (lizards)
Subspecies
Common Names
E: Central Pallid Anole, Central Anole
Synonym
Anolis agrillaceus [sic] centralis PETERS 1970: 215
Anolis centralis — GARRIDO 1975: 9
Anolis centralis — SCHWARTZ & HENDERSON 1991: 234
Anolis centralis — RODRÍGUEZ SCHETTINO 1999: 250
Anolis centralis — NICHOLSON et al. 2005
Anolis centralis — NICHOLSON et al. 2012
Anolis centralis — NICHOLSON et al. 2018
Distribution
E Cuba (NE Camagüey Province to western Holguin Province; also apparently the Rio Cauto basin and perhaps the Peninsula de Banes)

Type locality: Victoria de las Tunas, Las Tunas Province, Cuba.
Reproduction
oviparous
Types
Holotype: ZMB 41616.
Diagnosis
DESCRIPTION: Size small (SVL in males to 44 mm) totalloreals 10-13; scales be-
tween supraorbitals 0; 1-2 (mode 1) scales between interparietal and supraorbital semicircles; 6 postrostrals; 3 postmentals; auricular opening oval, oblong, oblique, with a fold posteriorly. Dorsum (male) grayish white, clear chestnut, sandy gray, to grayish chestnut; a well-defined whitish longitudinal line from axilla to tail; about 5 pairs of darker chestnut spots middorsally; interocular bar poorly delineated; head greenish yellow, supraoculars at times dark chestnut; throat reticulate with chestnut; venter whitish; dewlap pale orange, pale yellow, or brick-red, the interior scales white to yellow; iris greenish white; dorsum (female) darker than male's, with neck markings and pattern more obvious; dorsum and sides marbled with white; interocular bar not pronounced; throat reticulated with chestnut; 2 dark axillary dots; venter white; iris clear greenish (Schwartz & Henderson 1991: 234).
Comment
Illustrations: Garrido, 1975.

Subspecies: Anolis centralis litoralis GARRIDO 1975 has been elevated to full species status.

Species group: Anolis loysianus species group (fide NICHOLSON et al. 2012).
References

Garrido, O. H. 1988. Nueva especies para la ciencia de Anolis (Lacertilia: Iguanidae) de Cuba perteneciente al complejo argiliaceus. Donana, Acta Vert. 15: 45-57.
Garrido, O.H. 1975. Distribución y variación de Anolis argillaceus Cope (Lacertilia: Iguanidae) en Cuba. Poeyana (142):1-28.
Navarro Pacheo, N. & Garrido, O.H. 2004. Especie nueva de Anolis (Sauria: Lacertilia: Iguanidae) de la región Suroriental de Cuba. Solenodon 4: 85-90
Navarro, Nils P.; Fernandez, Alejandro V.; Garrido, Orlando H. 2001. Taxonomic reconsideracion of Anolis centralis litoralis and description of a new species of the argillaceus group (Sauria: Iguanidae) for Cuba. [in Spanish]. Solenodon 1:66-75
Nicholson, K. E., R. E. Glor, J. J. Kolbe, A. Larson, S. B. Hedges, and J. B. Losos 2005. Mainland colonization by island lizards. Journal of Biogeography 32: 929–938 - get paper here
NICHOLSON, KIRSTEN E.; BRIAN I. CROTHER, CRAIG GUYER & JAY M. SAVAGE 2012. It is time for a new classification of anoles (Squamata: Dactyloidae). Zootaxa 3477: 1–108 - get paper here
NICHOLSON, KIRSTEN E.; BRIAN I. CROTHER, CRAIG GUYER & JAY M. SAVAGE 2018. Translating a clade based classification into one that is valid under the international code of zoological nomenclature: the case of the lizards of the family Dactyloidae (Order Squamata). Zootaxa 4461 (4): 573–586 - get paper here
Peters, G. 1970. Zur Taxionomie und Zoogeographie der kubanischen anolinen Eidechsen (Reptilia, Iguanide). Mitt. Zool. Mus. Berlin 46: 197-234. - get paper here
Poe, S. 2013. 1986 Redux: New genera of anoles (Squamata: Dactyloidae) are unwarranted. Zootaxa 3626 (2): 295–299 - get paper here
Rodríguez Schettino, Lourdes (ed.) 1999. The iguanid lizards of Cuba. University Press of Florida, 428 pp.
Rodríguez Schettino, Lourdes, Carlos A. Mancina & Vilma Rivalta González 2013. REPTILES OF CUBA: CHECKLIST AND GEOGRAPHIC DISTRIBUTIONS. Smithsonian Herp. Inf. Serv. (144): 1-96 - get paper here
Schwartz, A. & Henderson, R.W. 1991. Amphibians and Reptiles of the West Indies. University of Florida Press, Gainesville, 720 pp.

External links
Is it interesting? Share with others:
As link to this species use URL address:

https://reptile-database.reptarium.cz/species?genus=Anolis&species=centralis

without field 'search_param'. Field 'search_param' is used for browsing search result.