Anolis griseus GARMAN, 1887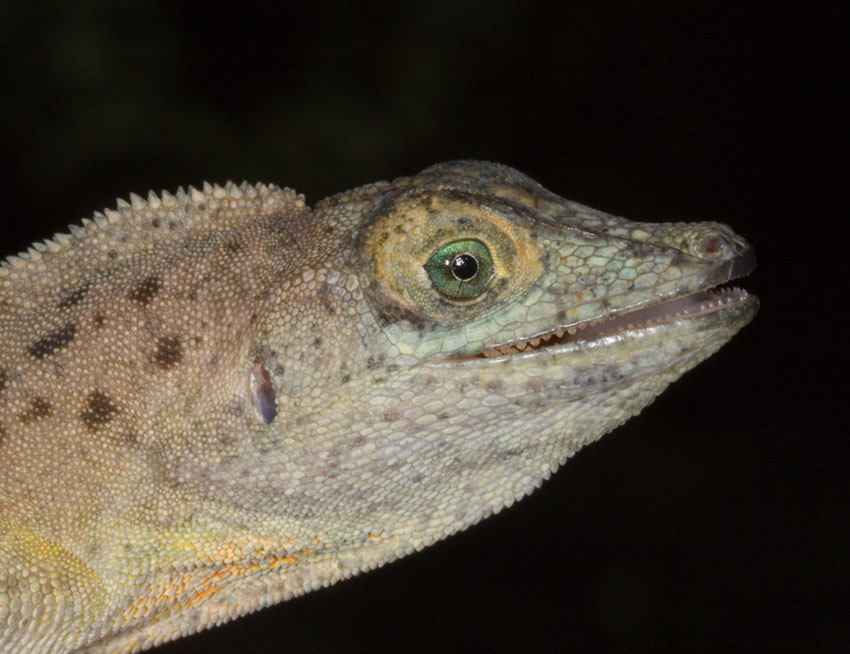 Can you confirm these amateur observations of Anolis griseus?
Add your own observation of
Anolis griseus »
Find more photos by Google images search:
Higher Taxa
Anolidae, Iguania, Sauria, Squamata (lizards)
Subspecies
Common Names
E: Saint Vincent Tree Anole, Saint Vincent's tree anole
Synonym
Anolis griseus GARMAN 1887: 36
Anolis richardii griseus — UNDERWOOD in WILLIAMS et al. 1959
Anolis griseus — SCHWARTZ & HENDERSON 1991: 271
Anolis griseus — NICHOLSON et al. 2005
Dactyloa grisea — NICHOLSON et al. 2012
Dactyloa grisea — NICHOLSON et al. 2018
Distribution
Lesser Antilles: St. Vincent

Type locality: St. Vincent; restricted to the principal town and port, Kingstown, by Lazell 1972 (GARMAN's actual data erroneously read "Kingston")
Reproduction
oviparous
Types
Lectotype: MCZ 6164, syntype: USNM 120754
Diagnosis
DESCRIPTION: Size large (SVL in males to 136 mm, 86 mm in females); 6-7 rows
of loreals; 0-1 scales between supraorbital semicircles; 1-3 scales between inter- parietal and supraocular semicircles; scales behind interparietal grade gradually into dorsals; 5-6 postrostrals; 4-6 postmentals; suboculars in contact with supra-labials; dorsal scales granular, 2 dorsalmost rows enlarged; midventrals cycloid, smooth to weakly keeled, juxtaposed; supradigital scales multicarinate; tail with 4-6 vertical rows of scales/10th verticil; only dorsalmost row of scales on tail enlarged. Dorsal ground color mossy gray-brown with green or yellow tinges variably present on face, limbs, and orbital area; dorsum with irregular dark spots and mottlings arranged in rough, forward-pointing Vs (usually obscured middorsally by dark color in females); occasionally pink suffusions on head; vague, pale flank stripe indicated anteriorly; a bold, light stripe or bar across forearm insertion; chin pale yellowish to gray, usually mottled with darker gray; venter pale greenish to yellowish gray; dewlap (in both sexes) dull orange-yellow with white to gray-green scales (Schwartz & Henderson 1991: 271).
Comment
For illustrations see Lazell, 1972; Schwartz and Henderson, 1985.

Species groups: Dactyloa roquet species group (fide NICHOLSON et al. 2012).
References

Creer, Douglas A., Kevin de Queiroz, Todd R. Jackman, Jonathan B. Losos and Allan Larson 2001. Systematics of the Anolis roquet series of the southern Lesser Antillies. Journal of Herpetology 35 (3): 428-441 - get paper here
Garman, S. 1887. On West Indian reptiles. Iguanidae. Bull. Essex Inst. 19: 25-50. - get paper here
Gemel, R.; G. Gassner & S. Schweiger 2019. Katalog der Typen der Herpetologischen Sammlung des Naturhistorischen Museums Wien – 2018. Ann. Naturhist. Mus. Wien, B 121: 33–248
Gorman, G.C. 1969. The zoogeography of Lesser Antillean Anolis lizards; an analysis based upon chromosomes and lactic dehydrogenases. Bull. Mus. Comp. Zool. Harvard 138 (3): 53-80. - get paper here
Gorman, George C. & Atkins, Leonard 1968. The relationships of the Anolis of the roquet species group (Sauria: Iguanidae). III. Comparative study of display behavior. Breviora (284): 1-31 - get paper here
Hite, Jessica L.; Gomez, Carlos A. Rodriguez; Larimer, Samantha C.; Diaz-Lameiro, Alondra M.; Powell, Robert. 2008. Anoles of St. Vincent (Squamata: Polychrotidae): population densities and structural habitat use. Carib. J. Sci. 44 (1):102-115 - get paper here
Lazell,J.D. 1972. The anoles (Sauria: Iguanidae) of the lesser Antilles. Bull. Mus. comp. Zool. Harvard 143 (1): 1-115 - get paper here
Nicholson, K. E., R. E. Glor, J. J. Kolbe, A. Larson, S. B. Hedges, and J. B. Losos 2005. Mainland colonization by island lizards. Journal of Biogeography 32: 929–938 - get paper here
NICHOLSON, KIRSTEN E.; BRIAN I. CROTHER, CRAIG GUYER & JAY M. SAVAGE 2012. It is time for a new classification of anoles (Squamata: Dactyloidae). Zootaxa 3477: 1–108 - get paper here
NICHOLSON, KIRSTEN E.; BRIAN I. CROTHER, CRAIG GUYER & JAY M. SAVAGE 2018. Translating a clade based classification into one that is valid under the international code of zoological nomenclature: the case of the lizards of the family Dactyloidae (Order Squamata). Zootaxa 4461 (4): 573–586 - get paper here
Poe, S. 2004. Phylogeny of anoles. Herpetological Monographs 18: 37-89 - get paper here
Poe, S. 2013. 1986 Redux: New genera of anoles (Squamata: Dactyloidae) are unwarranted. Zootaxa 3626 (2): 295–299 - get paper here
Powell, Robert and Robert W. Henderson 2017. Notes on the diets of some amphibians and reptiles of the St. Vincent and Grenada Banks (Lesser Antilles). IRCF Reptiles & Amphibians 24 (2): 135–138 - get paper here
Schmidt, J. 1980. Warum eigentlich immer Anolis carolinensis? Teil 2. Herpetofauna 2 (5): 22-25 - get paper here
Schwartz, A. & Henderson, R.W. 1991. Amphibians and Reptiles of the West Indies. University of Florida Press, Gainesville, 720 pp.
Schwartz, A. and Henderson, R.W. 1985. A guide to the identification of the amphibians and reptiles of the West Indies exclusive of Hispaniola. Milwaukee Public Mus., 165 pp.
Thorpe, R. S., Barlow, A., Surget-Groba, Y., & Malhotra, A. 2018. Multilocus phylogeny, species age and biogeography of the Lesser Antillean anoles. Molecular Phylogenetics and Evolution - get paper here
Williams, Ernest E.; Quesnel, Victor C.; Kenny, Julian S.; Underwood,G. 1959. The anoles of the Eastern Caribbean (Sauria, Iguanidae) Part. I. Preface; Part II. Two sibling species of anoles in Trinidad; Part. III. Revisionary notes. Bull. Mus. Comp. Zool. Harvard 121 (5): 185-226 + 1 plate - get paper here

External links
Is it interesting? Share with others:
As link to this species use URL address:

https://reptile-database.reptarium.cz/species?genus=Anolis&species=griseus

without field 'search_param'. Field 'search_param' is used for browsing search result.