Anolis wattsii BOULENGER, 1894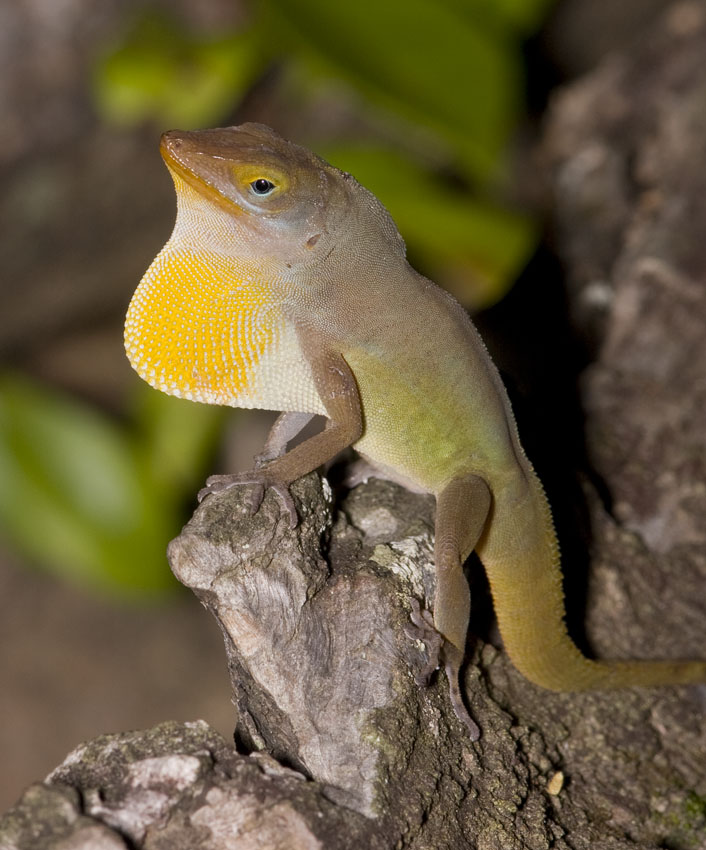 Can you confirm these amateur observations of Anolis wattsii?
Add your own observation of
Anolis wattsii »
Find more photos by Google images search:
Higher Taxa
Dactyloidae, Iguania, Sauria, Squamata (lizards)
Subspecies
Common Names
E: Watts' Anole
Synonym
Anolis wattsi BOULENGER 1894: 375
Anolis wattsi — UNDERWOOD in WILLIAMS et al. 1959
Anolis alter WILLIAMS 1962
Anolis wattsi — SCHWARTZ & HENDERSON 1991: 354
Anolis wattsi — ROUGHGARDEN 1995
Anolis wattsi — NICHOLSON et al. 2005
Ctenonotus wattsi — NICHOLSON et al. 2012
Ctenonotus wattsii — NICHOLSON et al. 2018
Distribution
Anguilla, Antigua, St. Martin, St. Eustatius, St. Christopher, Nevis, St. Lucia, Trinidad

wattsi: Antigua and associated isiets; according to Lazell, 1972, "on every coastal cay that supports more than herb stage vegetation"; introduced on St. Lucia at Castries (Botanicai Garden). Type locality: Antigua; restricted to St. John's, St. John Parish, Antigua, by Lazell, 1972.
Reproduction
oviparous
Types
Syntypes: BMNH 1946.8.29.12-.13.
Diagnosis
DESCRIPTION: Size moderate (SVL in males to 58 mm, in females to 46 mm); 4-6 rows of loreals; 0-1 scales between supraorbital semicircles; 2-4 scales between interparietal and supraorbital semicircles; scales behind interparietal grade gradually into dorsals; 3-4 postrostrals; 4-6 postmentals; suboculars in contact with supralabials; dorsal scales small, 2 dorsalmost rows enlarged, grading into granules laterally; ventrals cycloid to acute, sharply keeled, imbricate, larger than dorsals; supradigital scales multicarinate; 4-5 vertical rows of scales/10th caudal verticil. Dorsal ground color (male) tan, brown, gray-brown, or olive-drab, with or without posterolateral green wash; with or without faint, darker transverse bands; head mayor may not be suffused with rust-red pigment; top of head mayor may not be suffused with blue; snout suffused with orange or copper; chin cream, orange, or yellow (with or without variable black dotting); underside of tail cream to yellow, possibly suffused with orange; suboculars white to bright sky-blue, which at times extends to eyelids; venter dirty white, pale to bright yellow, or yellow-brown, with or without green abdominal wash; dewlap white (with or without lemon-yellow cast or suffusion of lime-green), deep orange or orange-yellow, scales pale blue, blue-gray, or white; dorsum (females) rich brown to gray-brown, with or without mustard-yellow lateral suffusion; pale tan to ash-gray middorsal stripe may be present from axilla to groin, bordered or not by darker color; with or without well-developed white flank stripe; head with or without bluish or reddish suffusions (or both); venter dirty white, cream, yellow or dingy gold; underside of tail yellow to orange; blues and oranges duller than in male (Schwartz & Henderson 1991: 354).
Comment
Illustrations: Lazell, 1972; Schwartz and Henderson, 1985.

Subspecies: Anolis wattsi pogus and Anolis wattsi schwartzi have been elevated to full species status. The status of forresti has been considered as unclear (POWELL & HENDERSON 2001) but more recently treated as full species.

The wattsi group of anoles contains wattsi, forresti, pogus, and schwartzi.

Species group: Ctenonotus bimaculatus species group (fide NICHOLSON et al. 2012).
References

Barbour, Thomas 1923. West Indian investigations of 1922. Occasional Papers of the Museum of Zoology, University of Michigan (132): 1-9 - get paper here
Beolens, Bo; Michael Watkins, and Michael Grayson 2011. The Eponym Dictionary of Reptiles. Johns Hopkins University Press, Baltimore, USA - get paper here
Boulenger, G. A. 1894. Description of a new Anolis from Antigua, West Indies. Ann. Mag. Nat. Hist. (6) 14: 375-376. - get paper here
Breuil, H. 2002. Histoire Naturelle des Amphibiens et Reptiles de l'Archipel Guadeloupéen: Guadeloupe, Saint-Martin, Saint-Barthélemy. Patrimoines naturels 54: 339 pp.
Daltry, Jennifer C. 2007. An introduction to the herpetofauna of Antigua, Barbuda and Redonda, with some conservation recommendations. Applied Herpetology 4 (2): 97-130. - get paper here
Fifi, Adam; Renoir J. Auguste 2017. New Localities for the Introduced Anolis wattsi (Squamata: Dactyloidae) on Trinidad, West Indies. Living World 2017: 51 - get paper here
Gorman, G.C. 1969. The zoogeography of Lesser Antillean Anolis lizards; an analysis based upon chromosomes and lactic dehydrogenases. Bull. Mus. Comp. Zool. Harvard 138 (3): 53-80. - get paper here
Helmus, Matthew R.; Jocelyn E. Behm, Wendy A.M. Jesse, Jason J. Kolbe,Jacintha Ellers, and Jonathan B. Losos 2016. EXOTICS EXHIBIT MORE EVOLUTIONARY HISTORY THAN NATIVES: A COMPARISON OF THE ECOLOGY AND EVOLUTION OF EXOTIC AND NATIVE ANOLE LIZARDS. In: Invasion Genetics: The Baker and Stebbins Legacy, First Edition. Edited by Spencer C. H. Barrett, Robert I. Colautti, Katrina M. Dlugosch, and Loren H. Rieseberg; John Wiley & Sons, pp. 122-138 (publication year given as 2017 in the book) - get paper here
Joyce, Trevor; Eifler, Douglas A.; Powell, Robert 2010. Variable habitat use influences the mating system of a Lesser Antillean anole. Amphibia-Reptilia 31: 395-401 - get paper here
Lazell, J.D., and E.E. Williams. 1962. The anoles of the Eastern Caribbean (Sauria, Iguanidae): Parts IV-VI. Bull. Mus. Comp. Zool. Harvard 127 (9): 451-478 - get paper here
Lazell,J.D. 1972. The anoles (Sauria: Iguanidae) of the lesser Antilles. Bull. Mus. comp. Zool. Harvard 143 (1): 1-115 - get paper here
Losos, J. B. 2009. Lizards in an Evolutionary Tree: Ecology and Adaptive Radiation of Anoles. Berkeley: University of California Press, 528 pp. - get paper here
Malhotra, A. & Thorpe, R.S. 1999. Reptiles & Amphibians of the Eastern Caribbean. MacMillan, London & Oxford
MAURER, A. S., AND J. T. STROUD 2020. Anolis wattsi (Watts' Anole). Nocturnal Activity. Herpetological Review 51: 119.
Nicholson, K. E., R. E. Glor, J. J. Kolbe, A. Larson, S. B. Hedges, and J. B. Losos 2005. Mainland colonization by island lizards. Journal of Biogeography 32: 929–938 - get paper here
NICHOLSON, KIRSTEN E.; BRIAN I. CROTHER, CRAIG GUYER & JAY M. SAVAGE 2012. It is time for a new classification of anoles (Squamata: Dactyloidae). Zootaxa 3477: 1–108 - get paper here
NICHOLSON, KIRSTEN E.; BRIAN I. CROTHER, CRAIG GUYER & JAY M. SAVAGE 2018. Translating a clade based classification into one that is valid under the international code of zoological nomenclature: the case of the lizards of the family Dactyloidae (Order Squamata). Zootaxa 4461 (4): 573–586 - get paper here
Poe, S. 2004. Phylogeny of anoles. Herpetological Monographs 18: 37-89 - get paper here
Poe, S. 2013. 1986 Redux: New genera of anoles (Squamata: Dactyloidae) are unwarranted. Zootaxa 3626 (2): 295–299 - get paper here
Powell, Robert and Henderson, R.W. 2001. On the Taxonomic Status of Some Lesser Antillean Lizards. Carib. J. Sci. 37 (3-4): 288-290
Schwartz, A. & Henderson, R.W. 1991. Amphibians and Reptiles of the West Indies. University of Florida Press, Gainesville, 720 pp.
Schwartz, A. and Henderson, R.W. 1985. A guide to the identification of the amphibians and reptiles of the West Indies exclusive of Hispaniola. Milwaukee Public Mus., 165 pp.
Stenson, Andrew G.; Roger S.Thorpe and Anita Malhotra 2004. Evolutionary differentiation of bimaculatus group anoles based on analyses of mtDNA and microsatellite data. Molecular Phylogenetics and Evolution 32: 1 –10 - get paper here
Van Beest, P. and Haberham, Z.L. 2003. Een gebruikaanwijzing voor één van de meest interssante groepen terrarumdieren: Anolissen Deel I. Lacerta 61 (2): 53-64 - get paper here
White, G.L. & Hailey, A. 2006. The establishment of Anolis wattsi as a naturalized exotic lizard in Trinidad. Applied Herpetology 3 (1): 11-26 - get paper here
Williams, Ernest E.; Quesnel, Victor C.; Kenny, Julian S.; Underwood,G. 1959. The anoles of the Eastern Caribbean (Sauria, Iguanidae) Part. I. Preface; Part II. Two sibling species of anoles in Trinidad; Part. III. Revisionary notes. Bull. Mus. Comp. Zool. Harvard 121 (5): 185-226 + 1 plate - get paper here
Williams, Robert JToussaint.; Matthew N. Morton, Jennifer C Daltry, and Adams Toussaint 2019. The distribution of non-native Anolis lizards on Saint Lucia, Lesser Antilles. Caribbean Journal of Science 49(2-3), 281-289 - get paper here

External links
Is it interesting? Share with others:
As link to this species use URL address:

https://reptile-database.reptarium.cz/species?genus=Anolis&species=wattsii

without field 'search_param'. Field 'search_param' is used for browsing search result.