Chalcides boulengeri ANDERSON, 1892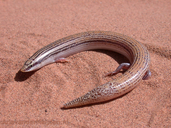 Can you confirm these amateur observations of Chalcides boulengeri?
Add your own observation of
Chalcides boulengeri »
Find more photos by Google images search:
Higher Taxa
Scincidae, Scincinae, Scincoidea, Sauria, Squamata (lizards)
Subspecies
Common Names
E: Boulenger's Feylinia
Synonym
Chalcides boulengeri ANDERSON 1892: 17
Chalcides sepoides boulengeri — WERNER 1929: 8
Chalcides boulengeri — CAPUTO et al. 1993
Chalcides boulengeri — CAPUTO et al. 2004
Sphenops boulengeri — GENIEZ et al. 2004
Chalcides (Sphenops) boulengeri — KALBOUSSI et al. 2006
Distribution
Tunisia, Morocco, Western Sahara, NW Libya, N Algeria

Type locality: Duirat, S Tunisia
Reproduction
viviparous
Types
Syntypes: BMNH 1946.8.2.77-78 (formerly 91.5.4.134-135), presented J. Anderson
Diagnosis
Comment
Etymology
Named after George Albert Boulenger (1858 - 1937), herpetologist at the British Museum of Natural History, London.
References

Anderson, J.A. 1892. On a small collection of Mammals, Reptiles, and Batrachians from Barbary. Proc. zool. Soc. London 1892: 3-24 - get paper here
Anderson, John 1896. A Contribution to the Herpetology of Arabia, with a preliminary list of the reptiles and batrachians of Egypt. London, R. H. Porter, 124 pp. - get paper here
Bauer, Aaron M.; Jonathan C. DeBoer , Dylan J. Taylor 2017. Atlas of the Reptiles of Libya. Proc. Cal. Acad. Sci. 64 (8): 155-318 - get paper here
Beolens, Bo; Michael Watkins, and Michael Grayson 2011. The Eponym Dictionary of Reptiles. Johns Hopkins University Press, Baltimore, USA - get paper here
Caputo, Vincenzo;Odierna, Gaetano;Aprea, Gennaro 1993. Karyological comparison of Shenops sepsoides, Chalcides chalcides, and C. ocellatus (Reptilia: Scincidae): Taxonomic implications. Copeia 1993 (4): 1180-1184 - get paper here
Carranza, S.; E.N. Arnold, Ph. Geniez, J. Roca and J.A. Mateo 2008. Radiation, multiple dispersal and parallelism in the skinks, Chalcides and Sphenops (Squamata: Scincidae), with comments on Scincus and Scincopus and the age of the Sahara Desert. Molecular Phylogenetics and Evolution 46 (3): 1071-1094 - get paper here
Geniez, P.; Mateo, J.A.; Geniez, M. & Pether, J. 2004. The amphibians and reptiles of the Western Sahara (former Spanish Sahara) and adjacent regions. Edition Chimaira, Frankfurt, 228 pp. [reviewed in Reptilia GB 44: 81]
Harbig, P. 2001. Anmerkungen zur Terrarienhaltung und Nachzucht des Keilskinks, Sphenops boulengeri ANDERSON 1896. Sauria 23 (1): 41-45 - get paper here
Kalboussi, Mohsen; Splendiani, Andrea; Aprea, Gennaro; Giovannotti, Massimo; Nouira, Said; Caputo, Vincenzo 2006. Standard karyotype of Chalcides boulengeri (Anderson, 1896) (Reptilia: Scincidae) from Tunisia and Morocco. Amphibia-Reptilia 27 (1): 135-137 - get paper here
Kane, Daniel; Steve Goodwin, Gerrit Jan Verspui, Anniek Tump, Gabriel Martínez del Mármol Marín 2019. Reptile diversity of southern Morocco: range extensions and the role of the Djebel Ouarkziz as a biogeographical barrier. Herpetology Notes 12: 787-793 - get paper here
Sindaco, R. & Jeremcenko, V.K. 2008. The reptiles of the Western Palearctic. Edizioni Belvedere, Latina (Italy), 579 pp. - get paper here
Trape, J.F.; Trape, S. & Chirio, L. 2012. Lézards, crocodiles et tortues d'Afrique occidentale et du Sahara. IRD Orstom, 503 pp. - get paper here

External links
Is it interesting? Share with others:
As link to this species use URL address:

https://reptile-database.reptarium.cz/species?genus=Chalcides&species=boulengeri

without field 'search_param'. Field 'search_param' is used for browsing search result.