Craspedocephalus wiroti TRUTNAU, 1981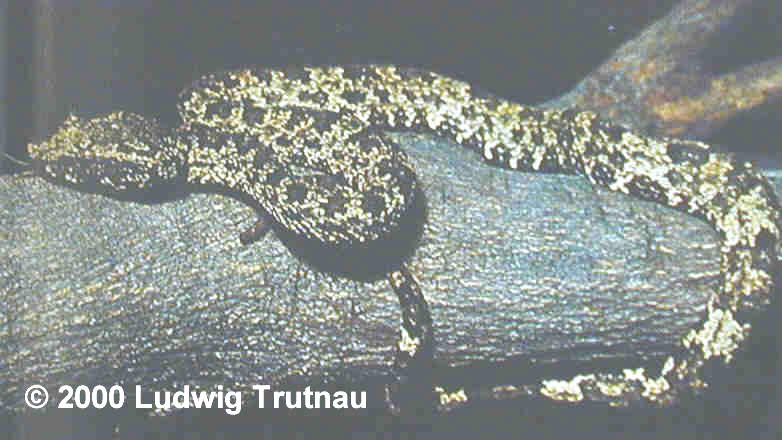 Can you confirm these amateur observations of Craspedocephalus wiroti?
Add your own observation of
Craspedocephalus wiroti »
Find more photos by Google images search:
Higher Taxa
Viperidae, Crotalinae, Colubroidea, Caenophidia, Alethinophidia, Serpentes, Squamata (snakes)
Subspecies
Common Names
E: Wirot's Pit Viper
G: Wirot-Bambusotter
Synonym
Trimeresurus wiroti TRUTNAU 1981: 188
Trimeresurus wiroti — DAVID et al. 2006
Trimeresurus (Craspedocephalus) wiroti — DAVID et al. 2011
Craspedocephalus wiroti — WALLACH et al. 2014: 189
Distribution
Thailand, West Malaysia

Type locality: "Khao Wang Range, at an elevation of between 500 and 1196 m, near villages of [...] Ban Hui Hip and Amphoe Lan Saka" (Trutnau, 1981, translated from German), Nakhon Si Thammarat Province, Thailand. The type locality was precised by Nutphand et al. (1991: 151) as: "Ban Hui Hip near Khlong Wang Hip, Amphoe Chawang, Changwat Nakhon Si Thammarat (Hui Hip village near Wang Hip canal, Chawang County, Nakhon Si Thammarat Province), approximately 8°30'N, 99°30'E", Thailand.
Reproduction
oviparous (MEHRTENS 1987: 373).
Types
Holotype: SMF 69695, juvenile male (not female as stated in Nutphand et al., 1991); Collected by Wirot Nutphand, 20 June 1979; donated to SMF by Ludwig Trutnau, January 1980.
Diagnosis
Diagnosis: A species of the genus Trimeresurus, endemic to Peninsular Thailand and West Malaysia, characterized by the combination of the following characters: (1) an usually overall dark or very dark pattern, with 22–35 darker crossbands, related to the sex: in males, background colour in various shades of dark greyish-brown, with dark brown irregular dorsolateral blotches, with below an irregular, elongated smaller blotch of same colour; areas between the bloches darker than on the sides of body, heavily powdered with dark and light dots or blotches producing a confused pattern, but not lichen-like; in females, pattern less complex and often as dark or darker than in males, in shades of dark brown with darker subrectangular dorsolateral blotches, without the dotted pattern but with broad darker edges and a wide lighter centre producing a "saddle-like" pattern; males have a more complex pattern, but are as dark as females (2) a distinctly projected and raised snout, strongly obliquely truncated when seen from the side, subrectangular seen from above; (3) internasals projected, strongly spatulate and bilobate, distinctly upturned; (4) usually 21 (rarely 19, 20 or 23) DSR at midbody; (5) 1st supralabial distinct from nasal; (6) 2nd supralabials bordering the whole of the anterior margin of the loreal pit; (7) 2 to 4 small and narrow supraoculars, convex or granular and raised; (8) VEN: 159–167 in males and 158–167 in females, SC: 43–56; (9) occipital and temporal scales moderately keeled or smooth in both sexes in adults, usually smooth in juvenile specimens; (10) IL of the first pair not in contact each with the other; and (11) hemipenes short, reaching 9th SC, with spines [from DAVID et al. 2006].
Comment
Venomous!

Authorship: Trutnau 1981 said in his book about keeping snakes that Konrad Klemmer is "planning" to describe this species (which apparently never happened) and then just described it, including a photo, so he is technically the author. However, some sources, such as Wallach et al. 2014 list the species as "Craspedocephalus wiroti (Klemmer in Trutnau, 1981)".

Synonymy: Has been previously synonymized with Trimeresurus borneensis.

Habitat: fully arboreal (Harrington et al. 2018).
Etymology
Named after Wirot Nutaphand, the collector of the type.
References

Beolens, Bo; Michael Watkins, and Michael Grayson 2011. The Eponym Dictionary of Reptiles. Johns Hopkins University Press, Baltimore, USA - get paper here
Chan-ard, T., Parr, J.W.K. & Nabhitabhata, J. 2015. A field guide to the reptiles of Thailand. Oxford University Press, NY, 352 pp. [see book reviews by Pauwels & Grismer 2015 and Hikida 2015 for corrections] - get paper here
Das, I. 2012. A Naturalist's Guide to the Snakes of South-East Asia: Malaysia, Singapore, Thailand, Myanmar, Borneo, Sumatra, Java and Bali. Oxford J, ohn Beaufoy Publishing - get paper here
DAVID, PATRICK; GERNOT VOGEL & ALAIN DUBOIS 2011. On the need to follow rigorously the Rules of the Code for the subsequent designation of a nucleospecies (type species) for a nominal genus which lacked one: the case of the nominal genus Trimeresurus Lacépède, 1804 (Reptilia: Squamata: Viperidae). Zootaxa 2992: 1–51 - get paper here
David, Patrick; Vogel, Gernot; Vijayakumar, S.P.; Vidal, Nicolas 2006. A revision of the Trimeresurus puniceus – complex (Serpentes: Viperidae: Crotalinae) based on morphological and molecular data. Zootaxa 1293:1-78 - get paper here
Grismer, L. Lee; Chan K. Onn, Jesse L. Grismer, Perry L. Wood, Jr., and A. Norhayati 2010. A CHECKLIST OF THE HERPETOFAUNA OF THE BANJARAN BINTANG, PENINSULAR MALAYSIA. Russ. J. Herpetol. 17 (2): 147-160 - get paper here
Harrington, Sean M; Jordyn M de Haan, Lindsey Shapiro, Sara Ruane 2018. Habits and characteristics of arboreal snakes worldwide: arboreality constrains body size but does not affect lineage diversification. Biological Journal of the Linnean Society 125 (1): 61–71 - get paper here
Trutnau, L. 1981. Schlangen im Terrarium. Bd. 2. Stuttgart (Eugen Ulmer), 200 S.
Wallach, Van; Kenneth L. Williams , Jeff Boundy 2014. Snakes of the World: A Catalogue of Living and Extinct Species. [type catalogue] Taylor and Francis, CRC Press, 1237 pp.

External links
Is it interesting? Share with others:
As link to this species use URL address:

https://reptile-database.reptarium.cz/species?genus=Craspedocephalus&species=wiroti

without field 'search_param'. Field 'search_param' is used for browsing search result.