Eremiascincus douglasi (STORR, 1967)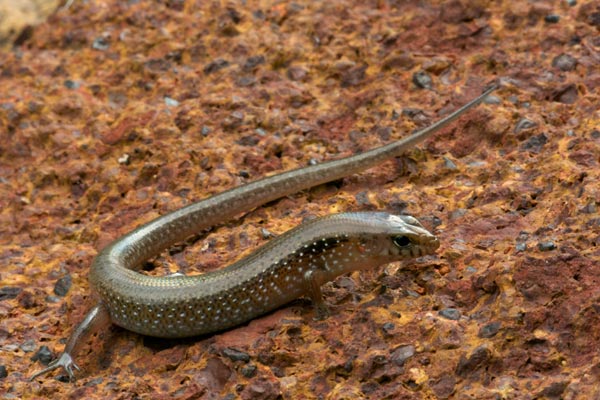 Can you confirm these amateur observations of Eremiascincus douglasi?
Add your own observation of
Eremiascincus douglasi »
Find more photos by Google images search:
Higher Taxa
Scincidae, Sphenomorphinae (Sphenomorphini), Scincoidea, Sauria, Squamata (lizards)
Subspecies
Common Names
E: Orange-sided Bar-lipped Skink
Synonym
Sphenomorphus isolepis douglasi STORR 1967
Mawsoniascincus douglasi — WELLS & WELLINGTON 1985: 34
Glaphyromorphus douglasi — GREER 1990
Glaphyromorphus douglasi — COGGER 2000: 492
Glaphyromorphus douglasi — COUPER et al. 2006: 381
Eremiascincus douglasi — MECKE et al. 2009
Distribution
Australia (Northern Territory)

Type locality: Darwin, 12° 25' S, 130° 49' E, N. T.
Reproduction
oviparous (Mecke et al. 2016)
Types
Holotype: WAM R23446
Diagnosis
Comment
Limb morphology: 5 digits, 5 toes (Singhal et al. 2018, Cogger 2014)
Etymology
Named after Athol M. Douglas (1915-2006), a zoologist who worked at the Western Australian Museum, Perth (1950s-1960s).
References

Beolens, Bo; Michael Watkins, and Michael Grayson 2011. The Eponym Dictionary of Reptiles. Johns Hopkins University Press, Baltimore, USA - get paper here
Cogger, H. G. 2014. Reptiles and Amphibians of Australia, 7th ed. CSIRO Publishing, xxx + 1033 pp. - get paper here
Cogger, H.G. 2000. Reptiles and Amphibians of Australia, 6th ed. Ralph Curtis Publishing, Sanibel Island, 808 pp.
Couper, P., Covacevich, J., Amey, A. & Baker, A. 2006. The genera of skinks (Family Scincidae) of Australia and its island territories: diversity, distribution and identification. in: Merrick, J.R., Archer, M., Hickey, G.M. & Lee, M.S.Y. (eds.). Evolution and Zoogeography of Australasian Vertebrates. Australian Scientific Publishing, Sydney, pp. 367-384
Greer A E 1990. The Glaphyromorphus isolepis species group (Lacertilia: Scincidae): diagnosis of the taxon and description of a new species from Timor. Journal of Herpetology 24 (4): 372-377 - get paper here
Mecke, S., M. Kieckbusch, T. Graf, L. A. Beck, M. O'Shea & H. Kaiser 2016. First captive breeding of a night skink (Scincidae: Eremiascincus) from Timor-Leste, Lesser Sunda Islands, with remarks on the reproductive biology of the genus. Salamandra 52 (2): 178-188 - get paper here
Mecke, S; Dougherty, P. & Donnellan, S.C. 2009. A new species of Eremiascincus (Reptilia: Squamata: Scincidae) from the Great Sandy Desert and Pilbara Coast, Western Australia and reassignment of eight species from Glaphyromorphus to Eremiascincus. Zootaxa 2246: 1-20 - get paper here
Singhal, Sonal; Huateng Huang, Maggie R. Grundler, María R. Marchán-Rivadeneira, Iris Holmes, Pascal O. Title, Stephen C. Donnellan, and Daniel L. Rabosky 2018. Does Population Structure Predict the Rate of Speciation? A Comparative Test across Australia's Most Diverse Vertebrate Radiation. The American Naturalist - get paper here
Skinner, Adam; Mark N. Hutchinson, Michael S.Y. Lee 2013. Phylogeny and Divergence Times of Australian Sphenomorphus Group Skinks (Scincidae, Squamata). Molecular Phylogenetics and Evolution 69 (3): 906–918 - get paper here
Storr,G.M. 1967. The genus Sphenomorphus (Lacertilia, Scincidae) in Western Australia and the Northern Territory. Roy. Sco. West. Aust. 50 (1): 10-20
Storr,G.M. 1972. Revisionary notes on the Sphenomorphus isolepis complex (Lacertilia, Scincidae). Zoologische Mededelingen 47: 1-5 - get paper here
Wilson, S. & Swan, G. 2010. A complete guide to reptiles of Australia, 3rd ed. Chatswood: New Holland, 558 pp.

External links
Is it interesting? Share with others:
As link to this species use URL address:

https://reptile-database.reptarium.cz/species?genus=Eremiascincus&species=douglasi

without field 'search_param'. Field 'search_param' is used for browsing search result.