Palea steindachneri (SIEBENROCK, 1906)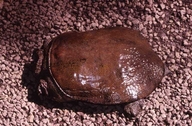 Can you confirm these amateur observations of Palea steindachneri?
Add your own observation of
Palea steindachneri »
Find more photos by Google images search:
Higher Taxa
Trionychidae (Trionychinae), Trionychoidea, Testudines (turtles)
Subspecies
Common Names
E: Wattle-necked Soft-shelled Turtle
G: Nackendornen-Weichschildkröte
Chinese: 山瑞鳖
Synonym
Trionyx steindachneri SIEBENROCK 1906: 579
Amyda steindachneri — SCHMIDT 1927: 399
Palea steindachneri — MEYLAN 1987: 77
Trionyx steindachneri — ALDERTON 1988
Palea steindachneri — ERNST & BARBOUR 1989
Palea steindachneri — CROTHER 2000
Pelodiscus steindachneri — PRITCHARD 2001: 8
Palea steindachneri — ZIEGLER 2002: 159
Palea steindachneri — TTWG 2014
Distribution
China (from Kwangtung, Kwangsi, and Hainan Island southwestward, Yunnan [HR 31: 111]),
Vietnam,
USA (introduced to Hawaii on Kauai and Oahu); introduced to Mauritius (fide GLAW, pers. comm.)

Type locality: "Kau-Kong Fluss" (= Gaugong), Hainan Island, People's Republic of China
Reproduction
Types
Holotype: NMW 20373.
Diagnosis
Comment
Distribution: It remains unclear whether the introduced population on Mauritius still exists.

Type species: Trionyx steindachneri SIEBENROCK 1906: 579 is the type species of the genus Palea MEYLAN 1987: 77.

Habitat: freshwater (rivers and tributaries, lakes)
Etymology
Named after Franz Steindachner (1834-1919), Austrian zoologist. Obituary in Pietschmann (1919).
References

Alderton, D. 1988. Turtles and tortoises of the world. Facts on File, New York.
Anonymous 2016. Testudinate China [in both English and Chinese] Testudinate Industry Branch of the China Fishery Association, published on occasion of WCH8; author not explicitly stated, 54 pp.
Beolens, Bo; Michael Watkins, and Michael Grayson 2011. The Eponym Dictionary of Reptiles. Johns Hopkins University Press, Baltimore, USA - get paper here
Bonin, F., Devaux, B. & Dupré, A. 2006. Turtles of the World. English translation by P.C.H. Pritchard. Johns Hopkins University Press, 416 pp.
Bour, R. 2008. Global diversity of turtles (Chelonii; Reptilia) in freshwater. Hydrobiologia 595:593–598 - get paper here
Ernst, Carl H.; Lovich, Jeffrey E. 2009. Turtles of the United States and Canada, 2nd edition. Johns Hopkins University Press, 827 pp. - get paper here
Ernst,C.H. and Barbour,R.W. 1989. Turtles of the World. Smithsonian Institution Press, Washington D.C. - London
Gemel, R.; G. Gassner & S. Schweiger 2019. Katalog der Typen der Herpetologischen Sammlung des Naturhistorischen Museums Wien – 2018. Ann. Naturhist. Mus. Wien, B 121: 33–248
Kowalski, T., W. Grossmann, H.-J. ZILGER & B.-M. ZWANZIG 2011. Herpetologische Beobachtungen im Sultanat Oman: Das Saiq - Plateau im Jebel al - Akhdar. Sauria 33 (1): 29-50 - get paper here
Le Duc, Olivier; Thong Pham Van, Benjamin Leprince, Cedric Bordes, Vinh Luu Quang, Oahn Lo Van, Anh Nguyen Thi Tam, Linh Luong Thi Khanh, Son Pham Ngoc, Luca Luiselli 2020. Farming Characteristics and the Ecology of Palea steindachneri (Trionychidae) in Vietnam. Russian Journal of Herpetology 27 (2): 97-108 - get paper here
Li, H., Liu, J., Xiong, L., Zhang, H., Zhou, H., Yin, H., Jing, W., Li, J., Shi, Q., Wang, Y., Liu, J. and Nie, L. 2017. Phylogenetic relationships and divergence dates of softshell turtles (Testudines: Trionychidae) inferred from complete mitochondrial genomes. J. Evol. Biol., doi:10.1111/jeb.13070 - get paper here
Lourenço, João M.; Julien Claude, Nicolas Galtier, Ylenia Chiari 2011. Dating cryptodiran nodes: Origin and diversification of the turtle superfamily Testudinoidea. Molecular Phylogenetics and Evolution 62 (1): - get paper here
Mckeown, Sean 1996. A Field Guide to Reptiles and Amphibians in the Hawaiian Islands. Diamond Head Publishing, Inc., Los Osos, CA,
Mell,R. 1938. Beiträge zur Fauna Sinica. VI. Aus der Biologie chinesischer Schildkröten. Archiv für Naturgeschichte, N.F., 7 (3): 390-475. - get paper here
Meylan, P.A. 1987. The phylogenetic relationships of soft-shelled turtles (Family Trionychidae). Bull. Amer. Mus. Nat. Hist. 186 (1):1-101.
Nguyen, S.V., Ho, C.T. and Nguyen, T.Q. 2009. Herpetofauna of Vietnam. Chimaira, Frankfurt, 768 pp.
Pietschmann, V. 1919. Franz Steindachner. Annalen des Naturhistorischen Museums in Wien 33: 47-48 - get paper here
Rudolphi, Michael and Ronald Weser. 1998. Die Weichschildkröten Nordvietnams unter besonderer Berücksichtigung der Nackendornen-Weichschildkröte, Palea steindachneri (Siebenrock, 1906). Sauria 20 (1): 2-14. - get paper here
Schmidt, K.P. 1927. The reptiles of Hainan. Bull. Amer. Mus. Nat. Hist. 54(3): 395-466 (-575?)
Siebenrock, F. 1906. Zur Kenntnis der Schildkrötenfauna der Insel Hainan. Zool. Anz. 30: 578-586 - get paper here
Siebenrock, F. 1907. Über einige zum Teil seltene Schildkröten aus Südchina. Akad. Anz. Wien 44: 491-492
TTWG [Peter Paul van Dijk, John B. Iverson, Anders G.J. Rhodin, H. Bradley Shaffer, and Roger Bour] 2014. Turtles of the World, 7th Edition: Annotated Checklist of Taxonomy, Synonymy, Distribution with Maps, and Conservation Status. 000.v7. Chelonian Research Monographs (ISSN 1088-7105) No. 5, doi:10.3854/crm.5.000.checklist.v7.2014 - get paper here
Valverde, J. 2007. Weichschildkröten. Reptilia (Münster) 12 (68): 16-23 - get paper here
Wang, Kai; Jinlong Ren, Hongman Chen, Zhitong Lyu, Xianguang Guo Ke Jiang, Jinmin Chen, Jiatang Li, Peng Guo, Yingyong Wang, Jing Che 2020. The updated checklists of amphibians and reptiles of China. Biodiversity Science 28 (2): 189-218 - get paper here
Ziegler, T. 2002. Die Amphibien und Reptilien eines Tieflandfeuchtwald-Schutzgebietes in Vietnam. Natur und Tier Verlag (Münster), 342 pp. - get paper here

External links
Is it interesting? Share with others:
As link to this species use URL address:

https://reptile-database.reptarium.cz/species?genus=Palea&species=steindachneri

without field 'search_param'. Field 'search_param' is used for browsing search result.