Atractus collaris PERACCA, 1897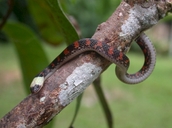 Can you confirm these amateur observations of Atractus collaris?
Add your own observation of
Atractus collaris »
Find more photos by Google images search:
Higher Taxa
Colubridae (Dipsadinae), Colubroidea, Caenophidia, Alethinophidia, Serpentes, Squamata (snakes)
Subspecies
Common Names
Collared Ground Snake
Synonym
Atractus collaris PERACCA 1897: 4
Atractus collaris — PETERS et al. 1970: 28
Atractus collaris — PASSOS et al. 2007
Atractus collaris — WALLACH et al. 2014: 70
Distribution
Ecuador (Amazonas, Napo, Orellana, Sucumbíos), NE Peru, Colombia (Amazonas, Caquetá)

Type locality: Río Cononaco, Prov. Pastaza, Ecuador Map legend:


- Region according to the TDWG standard, not a precise distribution map.



NOTE: TDWG regions are generated automatically from the text in the distribution field and not in every cases it works well. We are working on it.

Reproduction
oviparous
Types
Holotype: Turin Museum; Types not traced by ANDREONE & GAVETTI 2007.
Comment
References

Andreone, Franco; Gavetti, Elena 2007. The life and herpetological contributions of Mario Giacinto Peracca (1861-1923). SSAR, 570 pp
Passos, P. & Fernandes, R. 2008. A new species of the colubrid snake genus Atractus (Reptilia: Serpentes) from the central Amazon of Brazil. Zootaxa 1849: 59–66 - get paper here
Passos, P., R. Fernandes and Borges-Nojosa, D.M. 2007. A New Species of Atractus (Serpentes: Dipsadinae) from a Relictual Forest in Northeastern Brazil. Copeia 2007 (4): 788–797 - get paper here
Peracca, M.G. 1897. Intorna ad una piccola raccolta di Rettili di Cononacco (Perù orientale). Bollettino dei Musei di Zoologia e di Anatomia Comparata della R. Università di Torino 12 (284): 1-7
Pérez-Santos,C. & Moreno, A.G. 1988. Ofidios de Colombia. Museo reegionale di Scienze Naturali, Torino, Monographie VI, 517 pp.
Peters, James A.; Donoso-Barros, Roberto & Orejas-Miranda, Braulio 1970. Catalogue of the Neotropical Squamata: Part I Snakes. Part II Lizards and Amphisbaenians. Bull. US Natl. Mus. 297: 347 pp. - get paper here
Prudente, Ana L.C and Paulo Passos 2008. New Species of Atractus Wagler, 1828 (Serpentes: Dipsadinae) from Guyana Plateau in Northern Brazil. Journal of Herpetology 42 (4): 723 - get paper here
Savage,J.M. 1960. A revision of the Ecuadorian snakes of the colubrid genus Atractus. Misc. Publ. Zool. Univ. Michigan 112: 1-86 - get paper here
Wallach, Van; Kenneth L. Williams , Jeff Boundy 2014. Snakes of the World: A Catalogue of Living and Extinct Species. Taylor and Francis, CRC Press, 1237 pp.

External links
Is it interesting? Share with others:
As link to this species use URL address:

http://reptile-database.reptarium.cz/species?genus=Atractus&species=collaris

without field 'search_param'. Field 'search_param' is used for browsing search result.