Atractus collaris PERACCA, 1897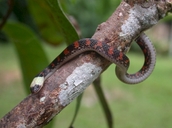 Can you confirm these amateur observations of Atractus collaris?
Add your own observation of
Atractus collaris »
Find more photos by Google images search:
Higher Taxa
Colubridae (Dipsadinae), Colubroidea, Caenophidia, Alethinophidia, Serpentes, Squamata (snakes)
Subspecies
Common Names
Collared Ground Snake
Synonym
Atractus collaris PERACCA 1897: 4
Atractus collaris — PETERS et al. 1970: 28
Atractus collaris — PASSOS et al. 2007
Atractus collaris — WALLACH et al. 2014: 70
Distribution
Ecuador (Amazonas, Napo, Orellana, Sucumbíos), NE Peru, Colombia (Amazonas, Caquetá)

Type locality: Río Cononaco, Prov. Pastaza, Ecuador Map legend:


- Region according to the TDWG standard, not a precise distribution map.



NOTE: TDWG regions are generated automatically from the text in the distribution field and not in every cases it works well. We are working on it.

Reproduction
oviparous
Types
Holotype: Turin Museum; Types not traced by ANDREONE & GAVETTI 2007.
Comment
DIAGNOSIS: A form obviously allied to A. gaigeae of Ecuador and A. bocourti of northeastern Perú,but distinct from them in both coloration and scutellation. Distinguished from all members of the genus known from Ecuador in: (1) 17 scale rows; (2) long loreal; (3) five maxillary teeth; (4) ventrals in male holotype 163, in female 175; and (5) pattern of six longitudinal dark stripes and a paired series of dorsolateral blotches [from SAVAGE 1960].
References

Andreone, Franco; Gavetti, Elena 2007. The life and herpetological contributions of Mario Giacinto Peracca (1861-1923). SSAR, 570 pp
Passos, P. & Fernandes, R. 2008. A new species of the colubrid snake genus Atractus (Reptilia: Serpentes) from the central Amazon of Brazil. Zootaxa 1849: 59–66 - get paper here
Passos, P., R. Fernandes and Borges-Nojosa, D.M. 2007. A New Species of Atractus (Serpentes: Dipsadinae) from a Relictual Forest in Northeastern Brazil. Copeia 2007 (4): 788–797 - get paper here
Peracca, M.G. 1897. Intorna ad una piccola raccolta di Rettili di Cononacco (Perù orientale). Bollettino dei Musei di Zoologia e di Anatomia Comparata della R. Università di Torino 12 (284): 1-7
Pérez-Santos,C. & Moreno, A.G. 1988. Ofidios de Colombia. Museo reegionale di Scienze Naturali, Torino, Monographie VI, 517 pp.
Peters, James A.; Donoso-Barros, Roberto & Orejas-Miranda, Braulio 1970. Catalogue of the Neotropical Squamata: Part I Snakes. Part II Lizards and Amphisbaenians. Bull. US Natl. Mus. 297: 347 pp. - get paper here
Prudente, Ana L.C and Paulo Passos 2008. New Species of Atractus Wagler, 1828 (Serpentes: Dipsadinae) from Guyana Plateau in Northern Brazil. Journal of Herpetology 42 (4): 723 - get paper here
Savage,J.M. 1960. A revision of the Ecuadorian snakes of the colubrid genus Atractus. Misc. Publ. Zool. Univ. Michigan 112: 1-86 - get paper here
Wallach, Van; Kenneth L. Williams , Jeff Boundy 2014. Snakes of the World: A Catalogue of Living and Extinct Species. Taylor and Francis, CRC Press, 1237 pp.

External links
Is it interesting? Share with others:
As link to this species use URL address:

http://reptile-database.reptarium.cz/species?genus=Atractus&species=collaris

without field 'search_param'. Field 'search_param' is used for browsing search result.