Eremiascincus douglasi (STORR, 1967)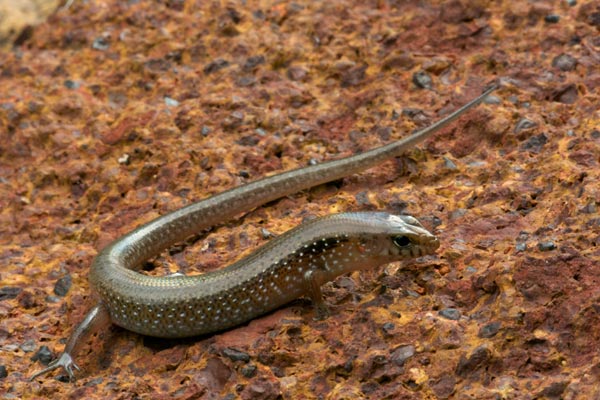 Can you confirm these amateur observations of Eremiascincus douglasi?
Add your own observation of
Eremiascincus douglasi »
Find more photos by Google images search:
Higher Taxa
Scincidae, Sphenomorphinae, Scincoidea, Sauria, Squamata (lizards)
Subspecies
Common Names
Orange-sided Bar-lipped Skink
Synonym
Sphenomorphus isolepis douglasi STORR 1967
Mawsoniascincus douglasi — WELLS & WELLINGTON 1985: 34
Glaphyromorphus douglasi — GREER 1990
Glaphyromorphus douglasi — COGGER 2000: 492
Eremiascincus douglasi — MECKE et al. 2009
Distribution
Australia (Northern Territory)

Type locality: Darwin, 12° 25' S, 130° 49' E, N. T. Map legend:


- Type locality.




- Region according to the TDWG standard, not a precise distribution map.



NOTE: TDWG regions are generated automatically from the text in the distribution field and not in every cases it works well. We are working on it.

Reproduction
oviparous (Mecke et al. 2016)
Types
Holotype: WAM R23446
Comment
References

Cogger, H. G. 2014. Reptiles and Amphibians of Australia, 7th ed. CSIRO Publishing, xxx + 1033 pp.
Cogger, H.G. 2000. Reptiles and Amphibians of Australia, 6th ed. Ralph Curtis Publishing, Sanibel Island, 808 pp.
Greer A E 1990. The Glaphyromorphus isolepis species group (Lacertilia: Scincidae): diagnosis of the taxon and description of a new species from Timor. Journal of Herpetology 24 (4): 372-377 - get paper here
Mecke, S., M. Kieckbusch, T. Graf, L. A. Beck, M. O'Shea & H. Kaiser 2016. First captive breeding of a night skink (Scincidae: Eremiascincus) from Timor-Leste, Lesser Sunda Islands, with remarks on the reproductive biology of the genus. Salamandra 52 (2): 178-188 - get paper here
Mecke, S; Dougherty, P. & Donnellan, S.C. 2009. A new species of Eremiascincus (Reptilia: Squamata: Scincidae) from the Great Sandy Desert and Pilbara Coast, Western Australia and reassignment of eight species from Glaphyromorphus to Eremiascincus. Zootaxa 2246: 1-20 - get paper here
Skinner, Adam; Mark N. Hutchinson, Michael S.Y. Lee 2013. Phylogeny and Divergence Times of Australian Sphenomorphus Group Skinks (Scincidae, Squamata). Molecular Phylogenetics and Evolution 69 (3): 906–918 - get paper here
Storr,G.M. 1967. The genus Sphenomorphus (Lacertilia, Scincidae) in Western Australia and the Northern Territory. Roy. Sco. West. Aust. 50 (1): 10-20
Storr,G.M. 1972. Revisionary notes on the Sphenomorphus isolepis complex (Lacertilia, Scincidae). Zool. Meded. 47: 1-5 - get paper here
Wilson, S. & Swan, G. 2010. A complete guide to reptiles of Australia, 3rd ed. Chatswood: New Holland, 558 pp.

External links
Is it interesting? Share with others:
As link to this species use URL address:

http://reptile-database.reptarium.cz/species?genus=Eremiascincus&species=douglasi

without field 'search_param'. Field 'search_param' is used for browsing search result.