Leptophis nebulosus OLIVER, 1942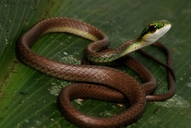 Can you confirm these amateur observations of Leptophis nebulosus?
Add your own observation of
Leptophis nebulosus »
Find more photos by Google images search:
Higher Taxa
Colubridae, Colubrinae, Colubroidea, Caenophidia, Alethinophidia, Serpentes, Squamata (snakes)
Subspecies
Common Names
Oliver's Parrot Snake
Synonym
Leptophis nebulosus OLIVER 1942
Thalerophis nebulosus — OLIVER 1948
Leptophis nebulosus — SAVAGE 2002
Leptophis nebulosus — WALLACH et al. 2014: 374
Distribution
Honduras, Nicaragua, Costa Rica, Panama [HR 34:265]

Type locality: Cariblanca, Costa Rica.
Reproduction
oviparous
Types
Holotype: MCZ R-15287
Comment
References

Köhler, G. 2008. Reptiles of Central America. 2nd Ed. Herpeton-Verlag, 400 pp.
McCranie J R 2011. The snakes of Honduras. SSAR, Salt Lake City, 725 pp.
McCranie, James R. 2015. A checklist of the amphibians and reptiles of Honduras, with additions, comments on taxonomy, some recent taxonomic decisions, and areas of further studies needed. Zootaxa 3931 (3): 352–386 - get paper here
Oliver, J. A. 1942. A check list of the snakes of the genus Leptophis, with descriptions of new forms. Occ. Pap. Mus. Zool., Univ. Michigan (No. 462): 19 pp. - get paper here
Oliver, J. A. 1948. The relationships and zoogeography of the genus Thalerophis Oliver. Bull. Amer. Mus. Nat. Hist. 92: 157-280.
Savage, J.M. 2002. The Amphibians and Reptiles of Costa Rica: A Herpetofauna Between Two Continents, Between Two Seas. University of Chicago Press, 934 pp. [review in Copeia 2003 (1): 205]
Solís, J. M., L. D. Wilson, and J. H. Townsend. 2014. An updated list of the amphibians and reptiles of Honduras, with comments on their nomenclature. Mesoamerican Herpetology 1: 123–144 - get paper here
Solorzano, A. 2004. Serpientes de Costa Rica - Snakes of Costa Rica. Editorial INBio, Costa Rica, 792 pp.
Sunyer, Javier 2014. An updated checklist of the amphibians and reptiles of Nicaragua. Mesoamerican Herpetology 1 (2): 186–202. - get paper here
Taylor,E.H. 1954. Further studies on the serpents of Costa Rica. Univ. Kansas Sci. Bull. 36: 673-800. - get paper here
Wallach, Van; Kenneth L. Williams , Jeff Boundy 2014. Snakes of the World: A Catalogue of Living and Extinct Species. Taylor and Francis, CRC Press, 1237 pp.

External links
Is it interesting? Share with others:
As link to this species use URL address:

http://reptile-database.reptarium.cz/species?genus=Leptophis&species=nebulosus

without field 'search_param'. Field 'search_param' is used for browsing search result.