Uta palmeri STEJNEGER, 1890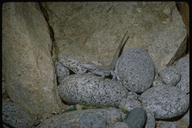 Can you confirm these amateur observations of Uta palmeri?
Add your own observation of
Uta palmeri »
Find more photos by Google images search:
Higher Taxa
Phrynosomatidae, Sceloporinae; Iguania, Sauria, Squamata (lizards)
Subspecies
Common Names
San Pedro Side-blotched Lizard
Synonym
Uta palmeri STEJNEGER 1890: 106
Uta palmeri — SMITH & TAYLOR 1950: 151
Uta palmeri — LINER 1994
Uta palmeri — LINER 2007
Uta palmeri — LINER & CASAS-ANDREU 2008
Distribution
Mexico (Sonora)

Type locality: San Pedro Mártir Island, Sonora. Map legend:


- Region according to the TDWG standard, not a precise distribution map.



NOTE: TDWG regions are generated automatically from the text in the distribution field and not in every cases it works well. We are working on it.

Reproduction
oviparous
Types
Holotype: USNM 16002
Comment
References
External links
Is it interesting? Share with others:
As link to this species use URL address:

http://reptile-database.reptarium.cz/species?genus=Uta&species=palmeri

without field 'search_param'. Field 'search_param' is used for browsing search result.