Anolis alumina HERTZ, 1976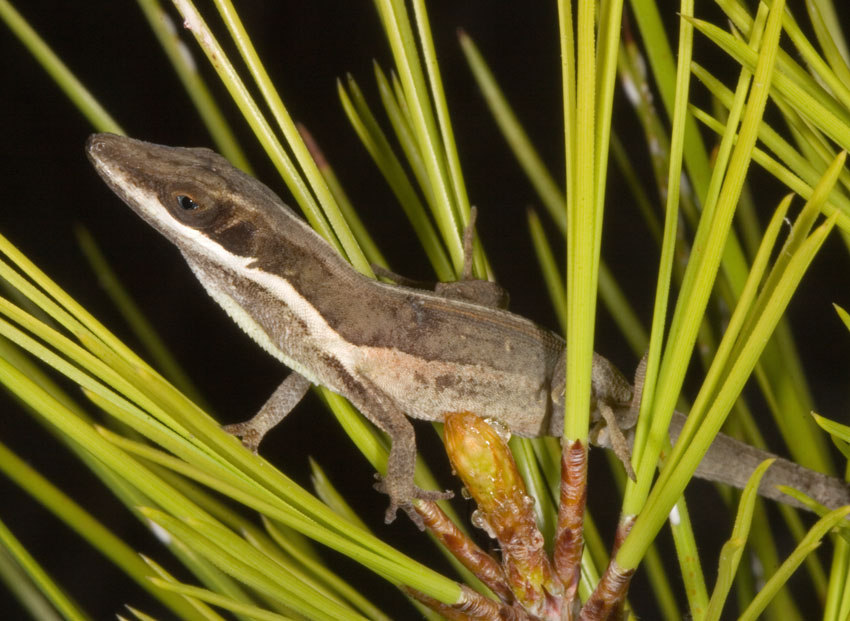 Can you confirm these amateur observations of Anolis alumina?
Add your own observation of
Anolis alumina »
Find more photos by Google images search:
Higher Taxa
Dactyloidae, Iguania, Sauria, Squamata (lizards)
Subspecies
Common Names
E: Barahona Grass Anole, Shiny Anole
Synonym
Anolis alumina HERTZ 1976: 2
Anolis alumina — SCHWARTZ & HENDERSON 1991: 213
Anolis alumina — NICHOLSON et al. 2005
Chamaelinorops alumina — NICHOLSON et al. 2012
Chamaelinorops alumina — NICHOLSON et al. 2018
Distribution
Hispaniola (SE Haiti, SW Dominican Republic)

Type locality: "31.5 km north of Cabo Rojo, Pedernales Province, Dominican Republic (elevation 1150 m)"
Reproduction
oviparous
Types
Holotype: MCZ 143824
Diagnosis
DESCRIPTION: Size small (SVL in males to 40 mm, in females to 37 mm); habitus attenuate; 4-5 rows of loreals; scales between supraorbital semicircles 0-2 (mode 1); 2-4 scales between interparietal scale and supraorbital semicircles; suboculars keeled and in contact with supralabials; 1-5 (mode 3) sublabials in contact with infralabials; rostral scale markedly rounded on dorsal surface; most head scales keeled; frontal depression very shallow, with smooth scales never larger than anterior supraorbital; 5 postrostrals; 4 postmentals; middorsal scales in longitudinal rows, unicarinate; ventrals in longitudinal rows, unicarinate, imbricate to mucronate (occasionally); supradigital scales multicarinate; tail oval to circular, long. Dorsum with middorsal stripe (or series of elongate blotches that meet medially) that is peppered with off-white; upper surface of head tan to chestnut; flanks chestnut; venter and lower jaw of both sexes and throats of females white with moderate brown peppering; 'conspicuous, white, lateral stripe on lower jaw from snout along flank to hindlimb, at times to base of tail; dewlap pale greenish yellow, dewlap scales white with brown peppering; iris blue (Schwartz & Henderson 1991: 213).
Comment
Illustrations: Hertz, 1976.
References

Hertz, P. E. 1976. Anolis alumina, new species of grass anole from the Barahona Peninsula of Hispaniola. Breviora (437): 1-19. - get paper here
Nicholson, K. E., R. E. Glor, J. J. Kolbe, A. Larson, S. B. Hedges, and J. B. Losos 2005. Mainland colonization by island lizards. Journal of Biogeography 32: 929–938 - get paper here
NICHOLSON, KIRSTEN E.; BRIAN I. CROTHER, CRAIG GUYER & JAY M. SAVAGE 2012. It is time for a new classification of anoles (Squamata: Dactyloidae). Zootaxa 3477: 1–108 - get paper here
NICHOLSON, KIRSTEN E.; BRIAN I. CROTHER, CRAIG GUYER & JAY M. SAVAGE 2018. Translating a clade based classification into one that is valid under the international code of zoological nomenclature: the case of the lizards of the family Dactyloidae (Order Squamata). Zootaxa 4461 (4): 573–586 - get paper here
Poe, S. 2013. 1986 Redux: New genera of anoles (Squamata: Dactyloidae) are unwarranted. Zootaxa 3626 (2): 295–299 - get paper here
Schwartz, A. & Henderson, R.W. 1991. Amphibians and Reptiles of the West Indies. University of Florida Press, Gainesville, 720 pp.

External links
Is it interesting? Share with others:
As link to this species use URL address:

https://reptile-database.reptarium.cz/species?genus=Anolis&species=alumina

without field 'search_param'. Field 'search_param' is used for browsing search result.