Anolis placidus HEDGES & THOMAS, 1989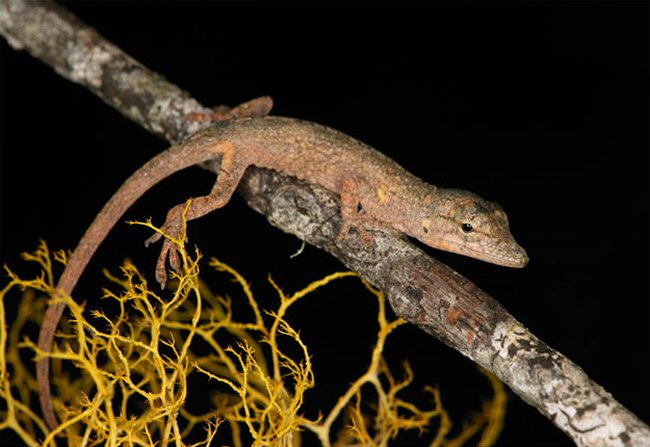 Can you confirm these amateur observations of Anolis placidus?
Add your own observation of
Anolis placidus »
Find more photos by Google images search:
Higher Taxa
Dactyloidae, Iguania, Sauria, Squamata (lizards)
Subspecies
Common Names
E: Neiba Twig Anole, Placid Anole
Synonym
Anolis placidus HEDGES & THOMAS 1989: 330
Anolis placidus — SCHWARTZ & HENDERSON 1991: 315
Anolis placidus — NICHOLSON et al. 2005
Anolis placidus — NICHOLSON et al. 2012
Anolis placidus — NICHOLSON et al. 2018
Distribution
Hispaniola (Dominican Republic: Sierra de Neiba)

Type locality: Ca. 10 km N Cacique Eriquillo, ca. 24 km N Las Pinos, Independencia Province, República Dominicana.
Reproduction
oviparous
Types
Holotype: USNM 286864.
Diagnosis
DESCRIPTION: Size small (SVL in males to 46 mm, in females to 45 mm); 3 rows of loreals; scales between supraorbitals 1-2 (mode 2); 1-3 (mode 2) scales between interparietal and supraorbital semicircles; suboculars in contact with supralabials; 2-3 (mode 2) scales between nasal and rostral; 5-8 postrostrals; 2 clusters of spines (about 10 scales each) posteriolateral to interparietal, followed by 1 middorsal spine or cluster of spines; middorsal scales small, granular, with a longitudinal series of individual spinose crest scales separated by about 2-6 unmodified dorsals; flank scales larger than dorsals; ventrals larger than dorsals, smooth, cycloid, occasionally in transverse rows; dewlap present in both sexes, large, inset, scales large, arranged in rows, larger than throat scales, about same size as ventrals, marginal scales crowded; limbs short, scales smooth, including supradigital scales; tail laterally compressed with shallow groove on each side and a median series of spinose, keeled scales, apices directed posteriorly, separated from each other by about 2-4 smaller scales, ventral caudals strongly keeled. Dorsum pale gray with black and brown lichenate markings (darker gray or brown when active or disturbed); 3-4 faint, dark, brown or black crossbands or blotches on body, and 5-7 more distinct brown bands on tail; 2 black blotches in pelvic region; middorsal spines black; about 8 narrow, dark brown lines radiating from eye; temporal blotch and blotch posterioventral to auricular opening black; legs with narrow, brown bands; dewlap (males) pale peach anteriorly and centrally, grading to light yellow-green posteriorly, (females) dark brown with cream border (Schwartz & Henderson 1991: 315).
Comment
For illustrations see Hedges and Thomas, 1989.

Species group: Anolis angusticeps species group (fide NICHOLSON et al. 2012).
References

Hedges, S. B. and R. Thomas. 1989. A new species of Anolis (Sauria: Iguanidae) from the Sierra de Neiba, Hispaniola. Herpetologica 45: 330-336. - get paper here
Nicholson, K. E., R. E. Glor, J. J. Kolbe, A. Larson, S. B. Hedges, and J. B. Losos 2005. Mainland colonization by island lizards. Journal of Biogeography 32: 929–938 - get paper here
NICHOLSON, KIRSTEN E.; BRIAN I. CROTHER, CRAIG GUYER & JAY M. SAVAGE 2012. It is time for a new classification of anoles (Squamata: Dactyloidae). Zootaxa 3477: 1–108 - get paper here
NICHOLSON, KIRSTEN E.; BRIAN I. CROTHER, CRAIG GUYER & JAY M. SAVAGE 2018. Translating a clade based classification into one that is valid under the international code of zoological nomenclature: the case of the lizards of the family Dactyloidae (Order Squamata). Zootaxa 4461 (4): 573–586 - get paper here
Poe, S. 2004. Phylogeny of anoles. Herpetological Monographs 18: 37-89 - get paper here
Poe, S. 2013. 1986 Redux: New genera of anoles (Squamata: Dactyloidae) are unwarranted. Zootaxa 3626 (2): 295–299 - get paper here
Poe, Steven 1998. Skull characters and the cladistic relationships of the Hispaniolan dwarf twig Anolis. Herpetological Monographs 12: 192-236 - get paper here
Schwartz, A. & Henderson, R.W. 1991. Amphibians and Reptiles of the West Indies. University of Florida Press, Gainesville, 720 pp.
Vences, M. 2009. Lizard Radiations, in: Gillespie Clague, Encyclopedia of islands. University of California Press, pp. 558-563

External links
Is it interesting? Share with others:
As link to this species use URL address:

https://reptile-database.reptarium.cz/species?genus=Anolis&species=placidus

without field 'search_param'. Field 'search_param' is used for browsing search result.