Anolis sheplani SCHWARTZ, 1974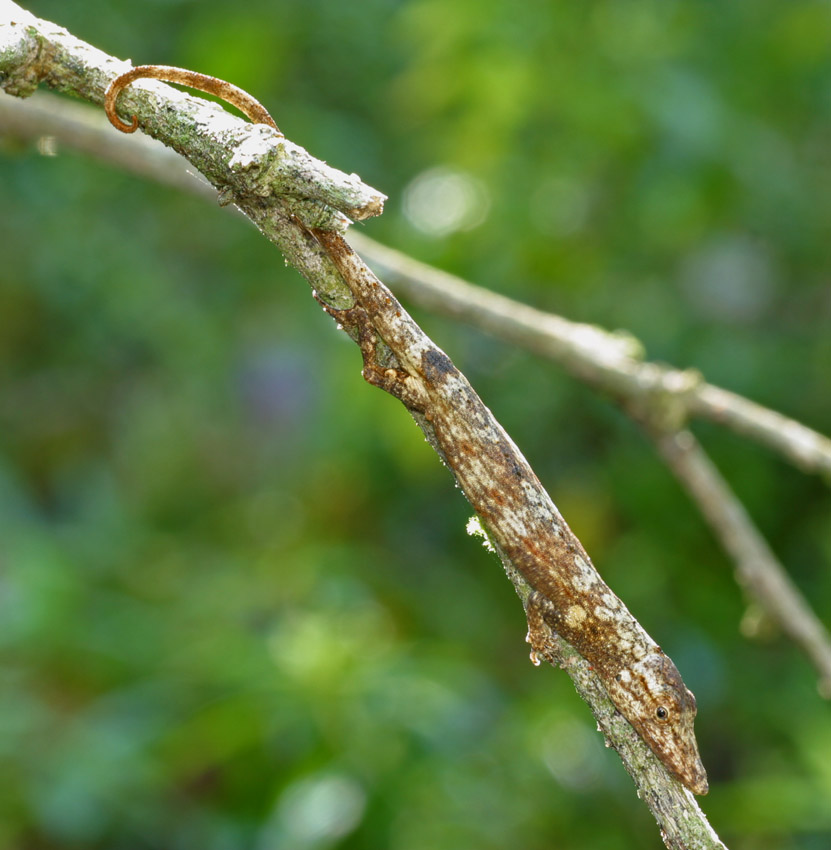 Can you confirm these amateur observations of Anolis sheplani?
Add your own observation of
Anolis sheplani »
Find more photos by Google images search:
Higher Taxa
Dactyloidae, Iguania, Sauria, Squamata (lizards)
Subspecies
Common Names
E: Baoruco Gray Twig Anole, Cabral Anole
Synonym
Anolis sheplani SCHWARTZ 1974: 4
Anolis sheplani — SCHWARTZ & HENDERSON 1991: 340
Anolis sheplani — NICHOLSON et al. 2005
Anolis sheplani — NICHOLSON et al. 2012
Anolis sheplani — NICHOLSON et al. 2018
Distribution
Hispaniola (Dominican Republic: Sierra de Baoruco)

Type locality: "13.0 mi. (20.8 km) SE Cabral, elevation: 3200 feet (976 meters), Barahona Province, Republica Dominicana"
Reproduction
oviparous
Types
Holotype: USNM 194015
Diagnosis
DESCRIPTION: Size small (SVL in males to 41 mm, females to 40 mm); 2-3 (mode
2) rows of loreals; scales between supraorbitals 0-2 (mode 1); 1-2 (mode 1) scales between interparietal and supraorbital semicircles; suboculars in contact with supralabials; 2 - 3 (mode 3) scales between nasal and rostral; 2 - 5 granular postmentals; 4-8 postrostrals; middorsal scales small, smooth, subequal, with a longitudinal series of isolated, spine-like scales separated by about 6-8 small, flat scales; ventrals smooth, distinctly larger than dorsals, juxtaposed, in often poorly defined rows; dewlap in both sexes, large, inset; limbs short, scales smooth, including supradigital scales; tail round, nonverticillate, with a continuation of evenly spaced middorsal spines, dorsal caudal scales larger than ventrals, smooth to weakly unicarinate, ventral caudal scales much larger, strongly unicarinate. Dorsum almost white to tan (when sleeping) to dark brown (in weak metachrosis) when active, or with lichenate pattern involving tan and brown with a row of tiny, dark brown dots on middorsal line (= median dorsal spinose scales); a small black to dark brown nuchal dot and a broad, dark sacral U (in pale phase); 2 radiating black lines from eye onto temporal region; a ventral radiating line from eye, forming 1 of a maximum series of 5 incomplete transverse, dark lines across throat; dewlap pale peach in males, brown with cream border in females, scales large and arranged in rows, marginal dewlap scales crowded and about same size as throat scales adjacent to dewlap; venter white (Schwartz & Henderson 1991: 340).
Comment
Species group: Anolis angusticeps species group (fide NICHOLSON et al. 2012).
Etymology
Named after the collector Bruce R. Sheplan.
References

Beolens, Bo; Michael Watkins, and Michael Grayson 2011. The Eponym Dictionary of Reptiles. Johns Hopkins University Press, Baltimore, USA - get paper here
Gifford, M.E. and R. Powell 2002. Anolis sheplani Schwartz. Catalogue of American Amphibians and Reptiles (750): 1-2 - get paper here
Hedges, S. B. and R. Thomas. 1989. A new species of Anolis (Sauria: Iguanidae) from the Sierra de Neiba, Hispaniola. Herpetologica 45: 330-336. - get paper here
Huyghe, Katleen; Anthony Herrel; Bieke Vanhooydonck; Jay J. Meyers and Duncan J. Irschick 2007. Microhabitat use, diet, and performance data on the Hispaniolan twig anole, Anolis sheplani: Pushing the boundaries of morphospace. Zoology 110 (1): 2-8 - get paper here
Nicholson, K. E., R. E. Glor, J. J. Kolbe, A. Larson, S. B. Hedges, and J. B. Losos 2005. Mainland colonization by island lizards. Journal of Biogeography 32: 929–938 - get paper here
NICHOLSON, KIRSTEN E.; BRIAN I. CROTHER, CRAIG GUYER & JAY M. SAVAGE 2012. It is time for a new classification of anoles (Squamata: Dactyloidae). Zootaxa 3477: 1–108 - get paper here
NICHOLSON, KIRSTEN E.; BRIAN I. CROTHER, CRAIG GUYER & JAY M. SAVAGE 2018. Translating a clade based classification into one that is valid under the international code of zoological nomenclature: the case of the lizards of the family Dactyloidae (Order Squamata). Zootaxa 4461 (4): 573–586 - get paper here
Poe S, Anderson CG. 2019. The existence and evolution of morphotypes in Anolis lizards: coexistence patterns, not adaptive radiations, distinguish mainland and island faunas. PeerJ 6: e6040 - get paper here
Poe, S. 2004. Phylogeny of anoles. Herpetological Monographs 18: 37-89 - get paper here
Poe, S. 2013. 1986 Redux: New genera of anoles (Squamata: Dactyloidae) are unwarranted. Zootaxa 3626 (2): 295–299 - get paper here
Poe, Steven 1998. Skull characters and the cladistic relationships of the Hispaniolan dwarf twig Anolis. Herpetological Monographs 12: 192-236 - get paper here
Schwartz, A. 1974. A new species of primitive Anolis (Sauria, Iguanidae) from the Sierra de Baoruco, Hispaniola. Breviora (423): 1-19 - get paper here
Schwartz, A. & Henderson, R.W. 1991. Amphibians and Reptiles of the West Indies. University of Florida Press, Gainesville, 720 pp.

External links
Is it interesting? Share with others:
As link to this species use URL address:

https://reptile-database.reptarium.cz/species?genus=Anolis&species=sheplani

without field 'search_param'. Field 'search_param' is used for browsing search result.