Sphaerodactylus klauberi GRANT, 1931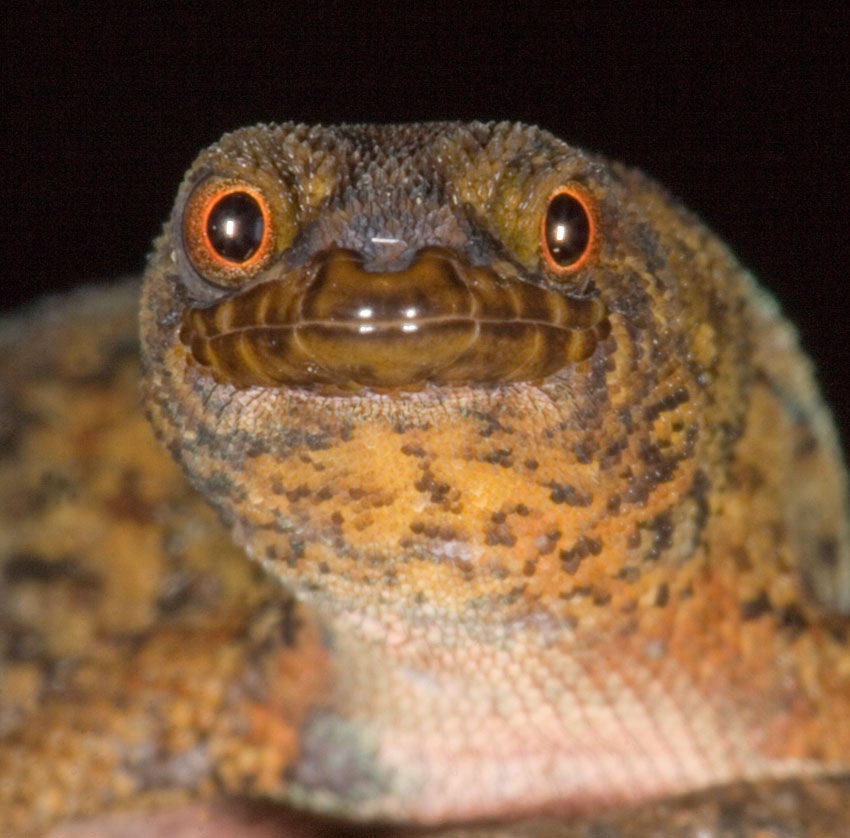 Can you confirm these amateur observations of Sphaerodactylus klauberi?
Add your own observation of
Sphaerodactylus klauberi »
Find more photos by Google images search:
Higher Taxa
Sphaerodactylidae, Gekkota, Sauria, Squamata (lizards: geckos)
Subspecies
Common Names
E: Puerto Rican Upland Geckolet, Puerto Rican highland sphaero, Klauber's Least Gecko
Synonym
Sphaerodactylus klauberi GRANT 1931: 207
Sphaerodactylus klauberi — THOMAS & SCHWARTZ 1966: 236
Sphaerodactylus klauberi — SCHWARTZ & HENDERSON 1991: 500
Sphaerodactylus klauberi — KLUGE 1993
Sphaerodactylus klauberi — RÖSLER 2000: 112
Distribution
Puerto Rico

Type locality: El Yunque, Bosque Experimental de Luquillo, Puerto Rico.
Reproduction
oviparous
Types
Holotype: MCZ 34473.
Diagnosis
DESCRIPTION: Size moderate (SVL in males to 36 mm, in females to 37 mm); dorsals moderate to small, acute to cycloid, strongly keeled, flattened, imbricate, axilla to groin 23-32; no area of middorsal granules or granular scales; ventrals partly to entirely keeled, acute, imbricate, axilla to groin 24-34; dorsal caudal scales acute, imbricate, flat-lying, ventral caudal scales smooth, cycloid, enlarged midventrally; snout broad, short, rather blunt; snout scales small, narrow, flat, slightly imbricate; 3 postnasals; 1-6 (modes 1 and 3, by population) internasals; upper labials to mideye 2-3 (strongly modally 3); gular scales partly to entirely keeled; chest scales partly to entirely keeled; midbody scales 42-67; escutcheon large with extensions well onto thighs, 3-7 x 14-27. Not sexually dichromatic; dorsum dark brown, with irregular darker and lighter spots and mottling; scapular pattern present in most specimens, patch black, well-developed to diffuse and broken, with paired white to light gray ocelli; head pattern complex: (1) light brown postocular stripes extend onto neck, frequently joined by transverse stripe, which may be centrally scalloped, (2) a dark, transverse occipital spot adjoined laterally by dark stripes, which pass posteriorly over eyelids, leaving a light, bitobed cephalic figure, and (3) other light and dark vermiculations at times present; sacral pattern U-shaped; throat black-and-gray mottled or uniform light gray; venter and underside of tail typically orange, reddish pink, or yellow, but may be gray; iris orange (from Schwartz & Henderson 1991: 500).
Comment
For illustrations see Grant, 1931; Thomas and Schwartz, 1966; Rivero, 1978.
Etymology
Named after Laurence Monroe Klauber, (1883-1968) American herpetologist. Short biography in Lovich et al. (2008).
References

Beolens, Bo; Michael Watkins, and Michael Grayson 2011. The Eponym Dictionary of Reptiles. Johns Hopkins University Press, Baltimore, USA - get paper here
Díaz-Lameiro, A. M., Villamil, C. I., Gamble, T., Pinto, B. J., Herrera-Martínez, A., Thomas, R., ... & Daza, J. D. 2022. A New Species of Spphaerodactylus (Gekkota: Sphaerodactylidae) from the Northwest Limestone Region of Puerto Rico. Ichthyology & Herpetology, 110(3), 449-465 - get paper here
Grant, C. 1931. The sphaerodactyls of Porto Rico, Culebra and Mona islands. J. Dept. Agric. Puerto Rico 15: 199-213. - get paper here
Kluge A G 1993. Gekkonoid Lizard Taxonomy. International Gecko Society, San Diego, 245 pp.
Lovich, K.; Mahrdt, C.R. & Beaman, K.R 2008. A Curator and His Rattlesnakes: The History of Laurence Monroe Klauber at the San Diego Zoo. In: Hayes et al. (eds), The biology of rattlesnakes. Loma Linda University Press, pp. 25-38
Rivero, J.A. 1978. Los anfibios y reptiles de Puerto Rico. M. Pareja Montana, 16, Barcelona, Espafia: x + 152 + 148pp.
Rösler, H. 2000. Kommentierte Liste der rezent, subrezent und fossil bekannten Geckotaxa (Reptilia: Gekkonomorpha). Gekkota 2: 28-153
Schwartz, A. & Henderson, R.W. 1991. Amphibians and Reptiles of the West Indies. University of Florida Press, Gainesville, 720 pp.
Thomas, R., and A. Schwartz. 1966. Sphaerodactylus (Gekkonidae) in the greater Puerto Rico region. Bulletin of the Florida State Museum, Biological Sciences, 10:193—260 - get paper here

External links
Is it interesting? Share with others:
As link to this species use URL address:

https://reptile-database.reptarium.cz/species?genus=Sphaerodactylus&species=klauberi

without field 'search_param'. Field 'search_param' is used for browsing search result.