Varanus cerambonensis PHILIPP, BÖHME & ZIEGLER, 1999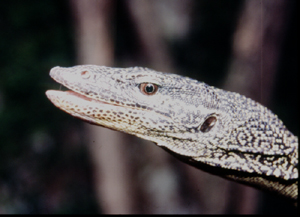 Can you confirm these amateur observations of Varanus cerambonensis?
Add your own observation of
Varanus cerambonensis »
Find more photos by Google images search:
Higher Taxa
Varanidae, Platynota, Varanoidea, Anguimorpha, Sauria, Squamata (lizards)
Subspecies
Common Names
Synonym
Varanus cerambonensis PHILIPP, BÖHME & ZIEGLER 1999
Varanus cerambonensis — AST 2001
Varanus (Euprepiosaurus) cerambonensis — KOCH et al. 2013
Varanus (Euprepiosaurus) cerambonensis — BUCKLITSCH et al. 2016: 50
Distribution
Indonesia, Mollucas (Seram, Ambon, Banda, Buru, Obi)

Type locality: Laimu (30°19'S, 129°44'E, Seram (= Ceram)
Reproduction
oviparous
Types
Holotype: ZFMK 70617 (on loan from MZB); paratypes: RMNH 3189; ZMA 11146; RMNH 7297 (seven specimens and one head); RMNH 3'50, 3152 and 7196; 2MB 4848
Diagnosis
Comment
Synonymy: Varanus cerambonensis was synonymized with V. indicus by Weijola 2015, 2017. This was later confirmed by the ICZN in 2020 with the acceptance of the replacement neotype for V. indicus.

Distribution: Phillip et al. (1999) mentioned a record from New Guinea, but without detailed locality. Weijola and Sweet (2015) argue that the species on Ambon, Seram, Buru, and Saparua is all V. indicus).
Etymology
Named after the type locality.
References

Ast, Jennifer C. 2001. Mitochondrial DNA Evidence and Evolution in Varanoidea (Squamata). Cladistics 17 (3): 211-226 [erratum in 18 (1):125] - get paper here
Böhme, Wolfgang 2014. Herpetology in Bonn. Mertensiella 21. vi + 256 pp. - get paper here
Iskandar, Djoko T. and Mumpuni 2002. The herpetological type specimens in the Museum Zoologicum Bogoriense Collection. Hamadryad 27 (1):123-135 - get paper here
Koch A, Arida E, Schmitz A, Böhme W, Ziegler T. 2009. Refining the polytypic species concept of mangrove monitors (Squamata: Varanus indicus group): a new cryptic species from the Talaud Islands, Indonesia, reveals the underestimated diversity of Indo-Australian monitor lizards. Australian Journal of Zoology 57(1): 29-40 - get paper here
Koch A, Ziegler T, Böhme W, Arida E, Auliya M. 2013. Pressing Problems: Distribution, Threats, and Conservation Status of the Monitor Lizards (Varanidae: Varanus spp.) of Southeast Asia and the Indo-Australian Archipelago. Herp. Cons. Biol. 8 (Monograph 3): 1 − 62. - get paper here
Philipp, K. M., W. Böhme & T. Ziegler 1999. The identity of Varanus indicus: Redefinition and description of a sibling species coexisting at the type locality (Sauria: Varanidae: Varanus indicus group). Spixiana 22 (3): 273-287 - get paper here
Philipp,K.M.; Ziegler, T. & Böhme, W. 2007. Preliminary Investigations of the Natural Diet of Six Monitor Lizard Species of the Varanus (Euprepiosaurus) indicus Group. Mertensiella 16: 336-345
Pianka, E. R. and D. R. King, eds. 2004. Varanoid Lizards of the World. Indiana University Press, 599 pp - get paper here
Weijola V, Sweet S. S. 2015. A single species of mangrove monitor (Varanus) occupies Ambon, Seram, Buru and Saparua, Moluccas, Indonesia. Amphibian & Reptile Conservation 9 (1) [General Section]: 14–23 - get paper here
Weijola, V. 2015. Case 3676. Tupinambis indicus Daudin, 1802 (currently Varanus indicus; Reptilia, Squamata): proposed conservation of usage of the specific name by replacement of the neotype. Bulletin of Zoological Nomenclature 72(2): 134–141 - get paper here
Weijola, Valter 2017. PHYLOGENY AND TAXONOMY OF THE PACIFIC MONITOR LIZARDS (SQUAMATA: VARANUS: EUPREPIOSAURUS). ANNALES UNIVERSITATIS TURKUENSIS 334 - get paper here
Weijola, Valter; Varpu Vahtera, Christer Lindqvist, Fred Kraus 2019. A molecular phylogeny for the Pacific monitor lizards (Varanus subgenus Euprepiosaurus) reveals a recent and rapid radiation with high levels of cryptic diversity. Zoological Journal of the Linnean Society 186 (4): 1053–1066 - get paper here
Ziegler, Thomas; Wolfgang Böhme, Andreas Schmitz 2007. A new species of the Varanus indicus group (Squamata, Varanidae) from Halmahera Island, Moluccas: morphological and molecular evidence. Mitteilungen aus dem Museum für Naturkunde in Berlin 83 (S1): 109-119 - get paper here

External links
Is it interesting? Share with others:
As link to this species use URL address:

https://reptile-database.reptarium.cz/species?genus=Varanus&species=cerambonensis

without field 'search_param'. Field 'search_param' is used for browsing search result.